Blog
How to Grow an Accounting Firm and Get Into the Top 100 Accounting Firms List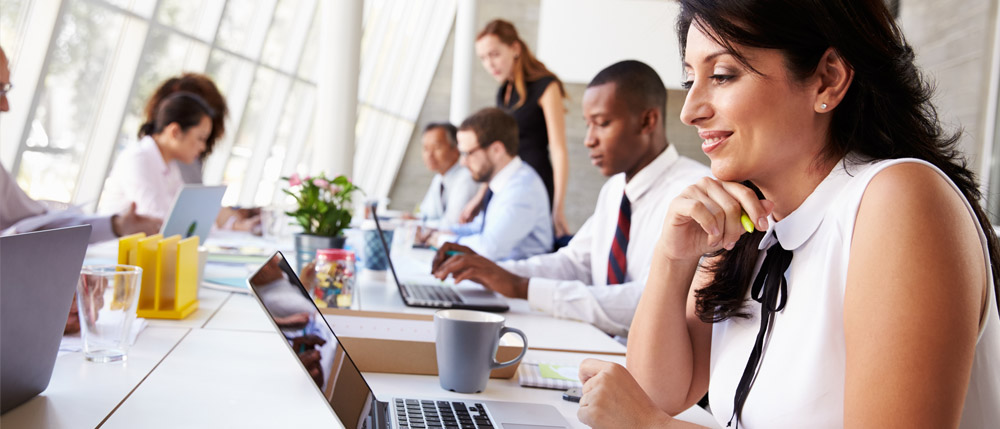 Every year, Accounting Today ranks the top 100 accounting firms annually. Names come and go on this list. Just because you're not there today doesn't mean you can't get there, and just because you're in the top 100 doesn't guarantee you'll stay there. It's a constantly fluctuating document that looks slightly different year to year.
In 2019, in order to crack the top 100 accounting firms in the USA, your accounting firm needed to do $41 million in revenue. While that sounds like quite a bit (and it is), it's actually very achievable if you want to go for it. Let's take a closer look at some of the details
$41 Million in Sales to Make The Top 100 Accounting Firms List
While at the top of the Top 100 Accounting Firms list you'll find the usual suspects such as Deloitte, PwC, Ernst and Young, and KPMG, as you move towards the lower half of the top 100 you'll find more local firms without a national presence. The 100th accounting firm on the list this past year was the firm Clark Nuber out of Bellevue, Washington. This accounting firm does $41 million in sales out of one office, with 23 partners, and 203 total employees.
How realistic is it for you to grow an accounting practice to $41 million? In order to make it even remotely possible, you must first do the math. Since you're an accountant, that shouldn't be a problem, right? Let's dive in!
The Math to Make It Into The Top 100 Accounting Firms
Whether you're just getting started and doing less than $500,000 annually, or if you're already a 7-figure firm looking to reach 8-figures, the strategy remains the same: know which services to offer clients to grow an accounting firm and scale it.
You won't get to $41 million just doing tax preps and monthly accounting. Instead, you're going to need high profit services like tax planning, financial coaching, and CFO services to focus new client acquisition on. As you secure new clients with these types of engagements, you can add on tax prep work and accounting for additional revenue, but they shouldn't be your main sales focus to grow your firm.
As an example, a firm we know recently was doing $1,600,000 a month selling financial coaching. This consisted of selling many $20,000 IT audits plus cyber security consulting. This firm started out from a single guy who worked at an accounting firm—just a normal employee. Now, his firm is on pace to do over $19 million in sales. That's nearly halfway up to the top 100 accounting firms already, but he's still growing.
This accounting firm has twelve salespeople, two full-time marketing employees, and spends $250,000 a month on advertising. It's as much a sales organization as it is an accounting firm, because big accounting firms don't become big without focusing on selling accounting services.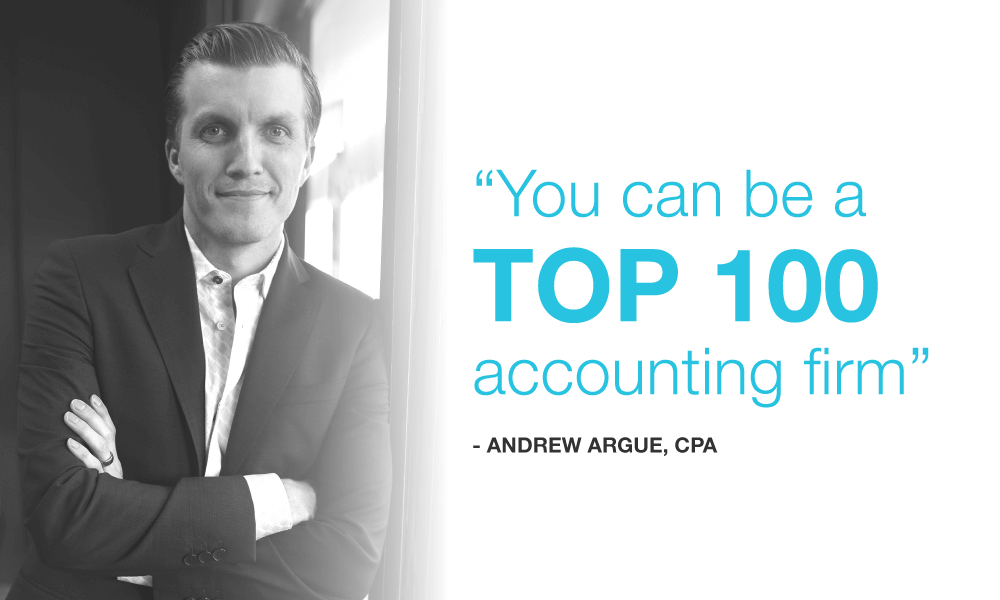 You Need Grow an Accounting Practice to $3.4 Million Per Month to Make The Top 100 Accounting Firms
How could you make $3,400,000 per month in sales? This depends on how many clients you can onboard in a week and what services you're selling and promoting. Those are the key questions. For example, how many tax plans can you sell in a week? That's likely dependent on how many appointments you can get!
In short, your numbers are dependent on your capacity to sell and service clients each week. Don't think about revenue in annual terms, that is too long of a time frame. Think monthly, but break things down weekly and daily.
This is because In order to scale, you must know your weekly and daily goals. As another example, if you want to do $3.4 million a month to make the top 100 accounting firms, and you're selling $5,000 tax plans (on average), then you need to sell 680 tax plans a month. This is about 170 tax plans per week, and 34 tax plans each business day.
Obviously, these are huge numbers, but the only difference between big numbers and small numbers is someone figured out how to scale the same things they were already doing. If you already have the capacity to do one tax plan a week, the only thing stopping you from doing 34 a week are more salespeople, whom you can train, and more service delivery people, whom you can also train. Having tax planning software for accountants also tremendously helps. In fact, Corvee software makes it possible for your staff to deliver tax plans apart from your own intensive time and effort.
The Mindset to Make The Top 100 Accounting Firms
So, the only difference between your firm now and a top 100 accounting firm is the collective power of more people and technology! You, as the entrepreneur, have the responsibility and duty to generate the revenue. Other people's job is to work for you to help you deliver the services. You can help speed up their work by investing in tools like tax planning software.
If you sell bad deals and you never try to push hard enough, you're never going to have enough money to hire people. You should have a clear picture of how many clients you can get each week and month. The more sales you can get, the more cash you'll have to hire more help and continue growing. It's a cycle.
If you can continue to raise the weekly and daily goals and hit them, you can grow your accounting practice to levels you never thought possible. For example, if you can sell and onboard one CFO engagement a month, and it takes you four appointments with prospects to secure that one CFO client…then the only thing stopping you from ten CFO clients each month is more team members to service them and more help to create forty appointments a month.
All growth starts with doing the numbers. As an accountant you're specially equipped to do this! Getting into the top 100 accounting firms list will NOT be easy, but it is doable if you make the commitment. But again, if you are serious about growing an accounting firm, tax planning needs to be a part of your service offerings. Having the assistance of tax planning software can speed up your processes and find more savings for your clients across multiple entities and years!