Blog
Why Digitizing Your Tax Firm is Vital with Tax Planner Software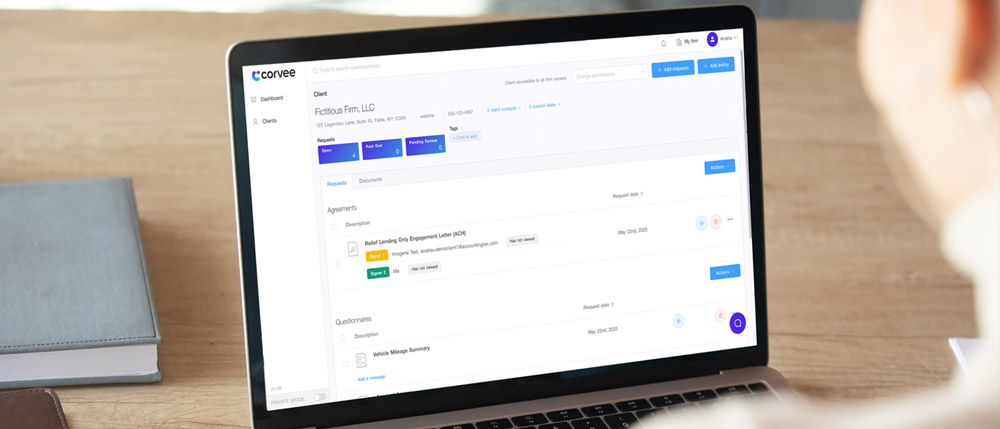 Is your tax firm digitized…and what does being digitized even mean? Let's define it first and then get into the details of how to do it. A digitized tax firm is where you work with digital documents as opposed to physical documents. It is the 21st century after all, so you probably shouldn't be dealing with huge files of paper and staples, right? Going digital also allows you to work remotely and with clients from all over the world, as opposed to being limited to your physical region.
While there are security risks with confidential and highly crucial physical documents from hazards such as theft or fire, going digital is not risk free either. As more and more accountants started using email during the 1990s, transferring tax documents digitally became much more common, but the problem is that many accountants to this very day still keep a habit of sending and receiving documents through email—which is far from safe.
The problem is, many accountants and clients are both unaware of how easy data can be breached using email. While being paperless helps to an extent that the data can't leave the office in written or printed format, digital data can still be stolen. The server may not be secure, there may not be an updated firewall or antivirus software installed and someone could even simply take a USB and take the digital file from your computer—so just having sensitive data on a computer is not necessarily "safe."
Highly sensitive information like social security numbers, how much money your clients earn, where they bank etc. can all fall into the wrong hands whether you send and receive their documents physically or electronically. So, what's the solution?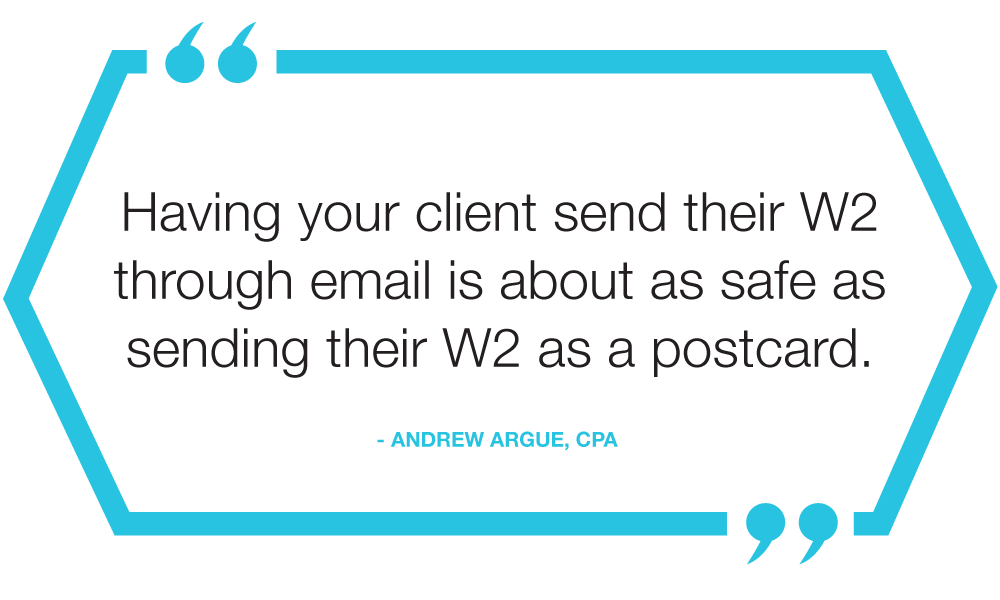 The goal of digitizing your accounting firm should make documents more secure but also offer you and your clients more convenience. We'll get to the security part later, but first let's talk about the convenience.
Digitizing Your Tax Firm for Convenience
Many firms have already gone through the process of digitizing files. They at one time had large file cabinets with mounds of paperwork, and someone went through and scanned them. Others just left the old paper trails and began doing digital files, and with time, the old papers became obsolete and were shredded. But whenever and however a firm becomes digitized, the first goal is convenience.
Very few have the patience to go look for papers in a file cabinet, they want to be able to search on their computer for it. That said, files are still files, even on a computer. You have to go into a file somewhere on the computer, grab the document you're looking for, and then exit. Oftentimes you need more than one file at a time and they are in different folders. This takes time, and even accountants with great filing systems with intelligently placed names, dates and services can still take a few moments to search and find multiple documents.
For example, you might have both the tax filing year and the words "tax" and "W2" in your computer folder and in the names of your files. An example might be: 2019-TAX_W2_Jon-Doe.
But as mentioned earlier, there is nothing necessarily secure about this digital file, and it's not super fast to locate even though it's searchable. There are better solutions to digitize!
Digitizing Your Tax Firm for Security
As mentioned earlier, many accountants feel digitized documents are safer than physical documents, and while that could be the case, that doesn't mean digital files are secure. This is why tax planner software was created to allow your clients to not only easily interact with you as their accountant or tax advisor, but to do so securely.
Sad but true fact: Most tax and accounting firms rely on too many applications to request, track and sign documents with their clients. For them, it's an endless battle of too many scattered emails and disorganized back-and-forth with sensitive information being put at risk.
This is why there has been a need for encrypted software applications, to handle digital information in an efficient, yet safe way.
Using Tax Planner Software for Digital Security
Think of it like this: All of your personal information is inside a room with a locked door and the only way to gain access is to have the key to this door. With most software applications, the software provider retains access to the key. The challenge with this method of encryption is that anyone with the key can access the room.
This above security protocol is called security by policy, where you rely on the software provider's ability to keep your key secure. However, even the largest corporations, banks, and government entities have suffered occasional breaches that have exposed the data of millions of people.
With tax planner software such as Corvee, the user is in control of the key using asymmetric encryption. With this method, the software platform has no access to your key. Only you, the user, and those you share the key with will have access to your information. This is security by design.
Security by design also denies a third party the ability to eavesdrop or otherwise gain access to the digital data between you and your client. In addition, our tax planner software exceeds the recommendations set by the National Institute of Standards and Technology, which are designed to protect highly secured government information.
Corvee Tax Planning software keeps the digital data between you and your accounting and tax clients secure and easy to find. It's the single best way to digitize your tax firm.
Tax Planning Professionals Use Corvee Software to Digitize Their Tax Planning Processes
One final way we recommend tax professionals to digitize their firm is to begin using Corvee Tax Planning. With this technology, you can save time by scanning tax returns, collecting information from questionnaires, analyzing estimated tax savings, preparing proposals and finalizing tax plans for clients in minutes.
Why try and remember all the possible tax strategies in your head, or worse, on an Excel spreadsheet, when you can instead have thousands of tax planning strategy combinations at your fingertips? The best tax software for CPA firms makes tax planning fast—it's no longer the long, drawn out process of researching possible tax savings opportunities, then manually typing up the deliverables. You just need to input the client's data and let the software do it's work…and it will even prepare a ready-to-send PDF to your client explaining all of the tax saving strategies you've chosen for them.
This is why many tax planning professionals are "digitizing" their entire tax planning process. Request your free demo below to see it in action.