Blog
If You Want Accounting Firm Growth, Try This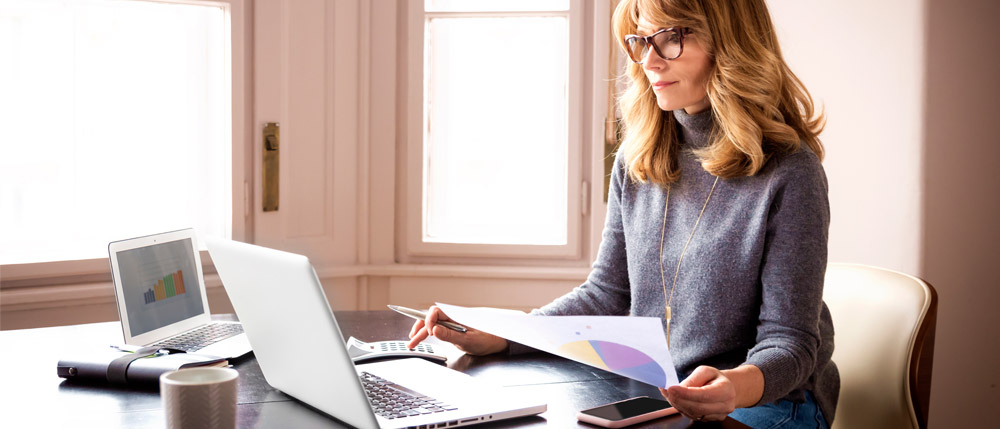 Perhaps in your head you've said, "I want to have accounting firm growth", which sounds like a great idea, but as always, ideas and dreams are easier in the mind than actually executed in the real world, right? If you're like many accountants, it's a struggle to build your accounting business. There is, however, a way to do it, and we want to guide you on the right path.
More Revenue, Less Accounting Clients
So many accountants are wasting time doing busy work for no money. They do not have clients that add VALUE to their firm. To experience accounting firm growth, you need to start making more money while working with fewer clients. Most accountants think that if they raise their prices, all of their clients will leave. If you ever want your accounting business to grow, you have to let some of your clients go. Stop focusing on the amount of time you spend on each client and start looking at the quality of revenue that each client provides you!
How can you get less clients with more revenue?
We've talked to accounting firms that do $2,100,000 in revenue, but only make $250,000 income. Another firm, meanwhile, can be doing $800,000 in revenue with $500,000 income. What's the difference between the two?
Basically, low profitability boils down to a combination of having too many employees, too low pricing, and too much work.
Does Your Accounting Firm Have Too Many Employees?
Here are basic goals for accounting firm profitability: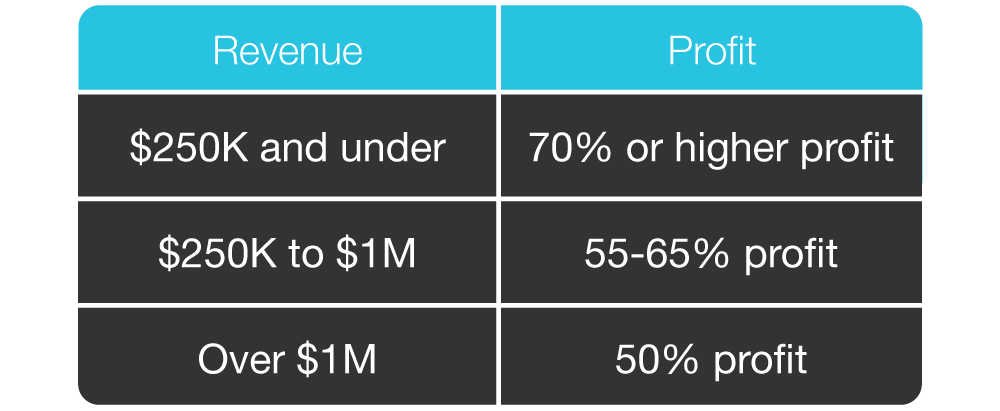 Likewise, you should have a goal to only be adding one full-time employee for every $250,000 in revenue.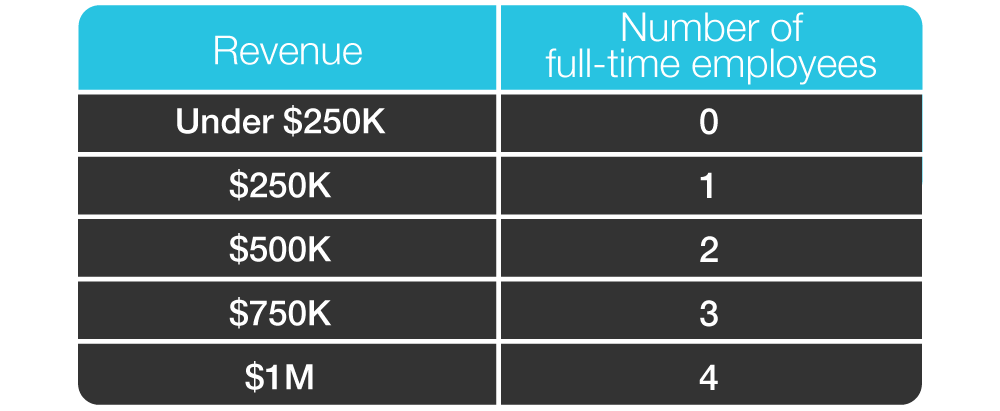 Part of the reason an accounting firm isn't profitable is because they're doing $450,000 revenue with 3 employees on payroll. It's a broken system! If you're pricing and scoping your services right, you'll be adding one employee for each $250,000 increment in revenue. Anything more than that will lower your profitability and slow the growth of your accounting firm.
Does Your Accounting Firm Have Too Low Pricing?
Many accounting firms haven't increased pricing for services in years. Never mind large price increases, oftentimes an accounting firm hasn't even made small, incremental price increases in over a decade. They charged $300 for a 1040 back in 2007 and they are still charging $300 today. They are losing just based on inflation!
The goal of high pricing isn't to 10X the cost and charge $3,000 for a 1040—you aren't charging extraordinary fees for a job that typically isn't a high-priced service. Instead, you're looking to add higher value services for a client, oftentimes combining services into a fuller, higher priced package. 
You have a pricing problem if you:
Haven't increased prices in the past 3 years.

Don't have your business clients on a tax planning service.

Sell business returns for less than $2,000 on average.

Aren't charging at least $500/month for every $500k in annual sales per tier of service your client has (Sub account, CFO, monthly accounting, controller).

Aren't charging for clean-up a fee of X months X 50%, plus hourly if you go over.

Think your clients won't pay higher prices.

Aren't doing wealth management (insurance, investments).
Does Your Accounting Firm Have Too Much Work?
If you have no time, you're selling your time for too little. Many accounting firms are super busy because they have too much work, and this stems from low pricing and/or not enough employees. When you have too much work, you struggle to onboard new clients, have way too much delivery to do for existing clients, and feel you need to hire but don't have the money.
Instead of More Accounting Clients, Get the Right Accounting Clients
In order to stop doing so much low-tiered, time-intensive tasks that offer little financial reward, you must define your ideal client.
3 Things to consider when picking your ideal client:
Cost to Acquire

—How much in advertising, marketing, and sales costs does it take to get this client?

Client Lifetime Value

—How much will this person pay me over the next 5-7 years? Stand alone 1040s and $200/mo bookkeeping clients don't have high lifetime value.

Willingness to Pay

—Based on how much you can save them in taxes, what's their current profit + salary + other income, current revenue, gross operating margin, and current investable assets?
As you can see, this involves much more than just "taking whatever work you can get". You need to combine services to bring them full value!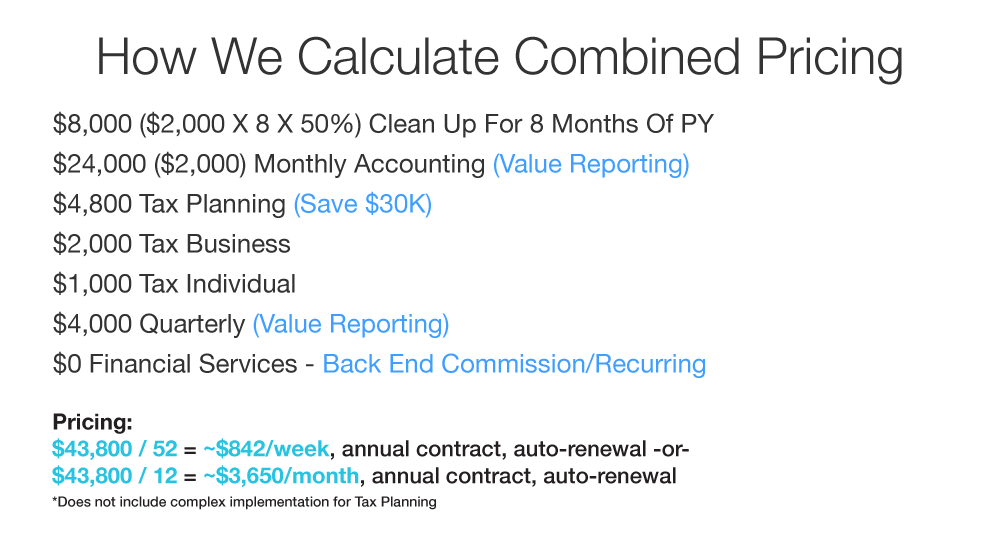 You can do a simple lifetime value comparison by considering this:
Signing a new client for $300 monthly accounting, it would take 37 years having them as a client to make $131,400

Sign this new client on a full package with clean up, accounting, tax planning, business and individual returns, and quarterlies for $3,650 monthly, it would take 3 years to make $131,400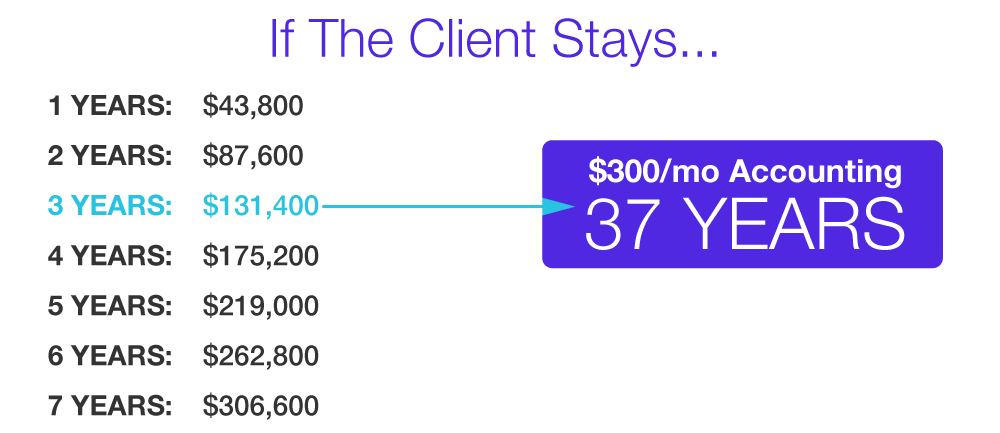 You cannot do any of this if you don't know which services to offer, have no mechanism for determining price, don't know if you're making the client money, or if the client doesn't know you're making them money. You have to provide a new paradigm of value which allows massive price increases.
How to Communicate the Value of Your Services to the Right Accounting Clients
You need a visual system that shows clients the value and prices them in a way that makes the client money. This is why we use sales slide decks over video calls. There is no way to display value without a deck presentation! A good sales deck presenting your services gives you the ability to communicate with the client the following:
The Problem You Solve For Them

—A clear diagnosis and understanding of their issues and their impact on their business and life.

Your Offer

—An attractive way to go through your value stack and present the offer and price.

Objections

—The ability to isolate and handle all concerns moving forward.
A good sales slide deck does way better than any of these older methods you may have already tried:
Cold calling new businesses

Networking at local events like BNI

Word of mouth & referrals

Yellow page ads
Upselling Your Already Good Accounting Clients
If you have existing clients who you enjoy serving, you can get them to pay more in the following ways:
Upsell: Present an existing client with a new opportunity. (Tax Planning, CFO, Wealth Management, etc.)
Re-Package: Combine service components for higher net profit. (Sell multiple services together for better efficiency and profit)
Renegotiate: When it's a bad deal that won't budge, just increase the price. (Simply tell them prices are rising this year)
Commissionable Services: Let others fulfill and take a referral fee. (You may not do wealth management but someone can, so find them and cut a deal)
PS- check out our Wealth Management program here.
Many Ways to Have Accounting Firm Growth
As you can see, we have multiple strategies and tactics to help build an accounting business. Growth requires you to acquire, convert, retain and expand relationships. You will need metrics and new client conversion methodologies that get clients that are ready to buy, pay upfront, and are grateful for the service you offer.
Accounting firm growth also involves having visualizations to highlight your value in order to show clients the value you bring. This is because value can often be communicated by showing something rather than just telling something (again, this is why we love using sales slide decks).
Last, but not least, a growing accounting business needs to design a client experience that provides MASSIVE value to clients while alleviating pressure on delivery, and expanding profit margins. This is why we recommend leveraging accounting firm software tools.
Our accounting firm software tools include:
Corvee Client Collaboration for safely and conveniently sending and receiving documents back and forth with clients
Corvee Payments for invoicing along with remotely accepting credit, debit card ACH payments from clients.

Corvee Tax Planning

for preparing and finalizing tax plans for clients in minutes.
Each of these accounting firm software tools adds a unique element to your business
So, if your accounting firm has low profitability, too many employees, too low pricing, or too much work without the resources to hire, we can help. Learn more about how to build an accounting business by filling the form below!