Blog
How To Grow Accounting Practice By Changing Your Mindset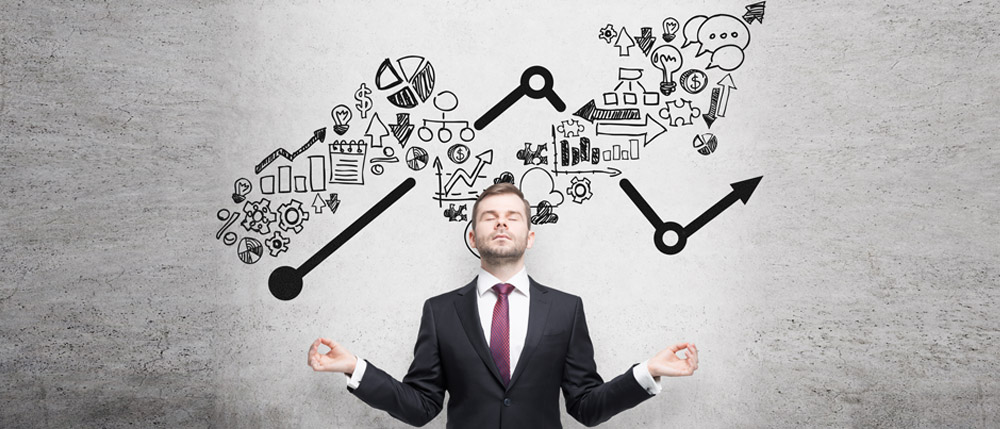 There are three types of accountants that are all in very different circumstances, yet each of them share a common trait:
The accountant who is just

starting their own firm

.

The accountant who has a firm but has struggled to grow it.

The accountant who has scaled their firm but has hit a ceiling.
Three accountants, very different places, one unifying problem—accounting firm growth.
How do you grow your accounting firm no matter where you are in the life cycle of your business? We've noticed one common thread with accountants struggling to take their firms to the next level: mindset.
Grow Accounting Practice with the Right Accounting Mindset
Both seasoned firm owners and new accountants alike are often oblivious to how drastically your mindset impacts the growing your accounting practice. It's not just about getting more leads. To an extent, yes, more leads is definitely part of the process to grow your accounting firm, but it's not the driver.
You've heard the popular saying, "Don't put the cart before the horse." Leads, in this case, are the cart. You need to carry a certain amount of leads each month in order to close new clients. It's just basic math—X leads to make Y clients.
The driver of this sales machine, the horse, is your mindset. To really grow your firm, changing your mindset can have a more impactful, over-arching effect that can resonate beyond just getting more leads. There's a process for getting leads, but beyond that, a shift in mindset is needed to grow an accounting practice.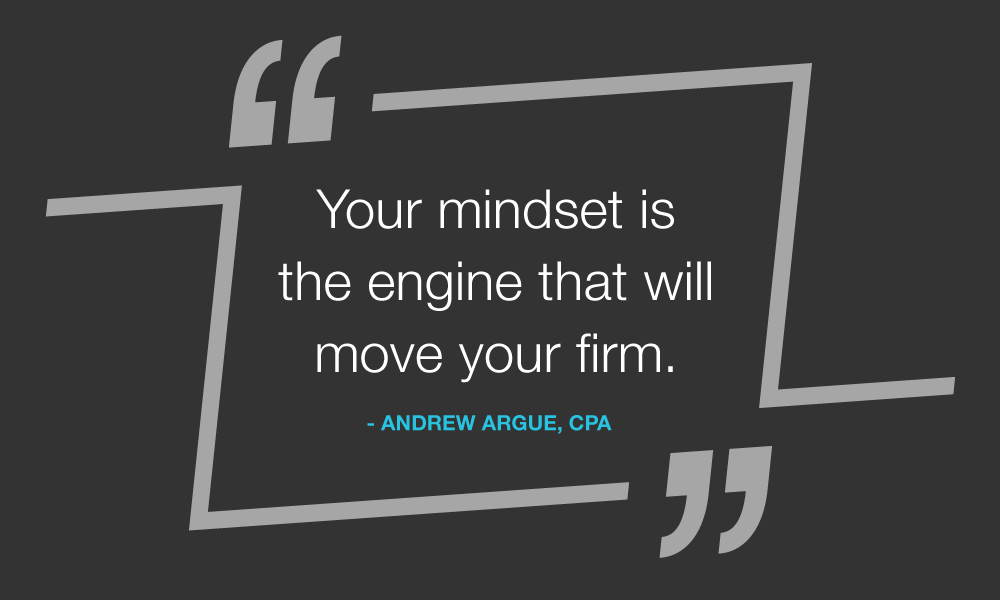 Accountant Mindset Shift to Grow Accounting Practice
There are three main ways you can change your mindset to maximize accounting firm growth.
#1 Thinking Big for an Accountant
Increase your targets. Many accountants are "realistic" when it comes to numbers, but the problem is oftentimes the outrageous can be realistic if only a change in mindset happens. For example, think about the famous story of the four-minute mile. For years, people thought it was impossible to break four minutes. It was the limit of the human body. Then, Roger Bannister broke it. Since that time, many others have also and it's almost routine among the top male runners.
The point is this, if your accounting firm is doing $300,000 annually, it may seem outrageous to do 7-figures. But is it really that crazy? Others have done it, and you are a talented accountant too. So, the first step is simply to have your goals enlarged. How big do you want your accounting practice to be? Think big!
#2 Start New Every Month with Your Accounting Firm Sales
We see this often happen with accountants who go after recurring monthly clients where the mindset is geared toward "settling". What we mean by this is that when you do monthly recurring accounting, your mindset naturally becomes different. You're building up to $15,000 a month or $50,000 a month, whatever it is that you want to do, and as you're building up all those numbers, here's what happens…
Month One: Get 3 clients at $2,500, that's $7,500.
Month Two: Get 7 more clients at $2,500, that's $17,500
(Add in the previous month, and you have 10 clients now for $25,000)
Month Three: Add 4 more clients at $2,500 for an additional $10,000
Suddenly, as you start month four, you already are counting on $35,000 as your starting point. When accountants do monthly recurring…it can make them lazy because they begin to count on the recurring. And soon, they stop adding new monthly clients.
If the goal is for you to grow accounting practice, have a system where your sales are at zero at the beginning of each month. We don't mean you shouldn't have recurring monthly clients, but rather as you track sales, only count the new sales you go out and get. Don't figure your recurring sales into the equation.
This gets your mindset on trying to get new clients, not just servicing existing clients. Under this system, you can have $150,000 in recurring revenue in July, but August 1st you are back to $0 in sales—and you need to try and beat the previous month without considering the recurring.
It's a pretty big mountain to climb each month. Will you be able to do it again when your $80,000 month goes to zero as the calendar turns to the following month? With one-time services, you have the mindset to fight every month to keep your business big. If you want to grow with recurring monthly clients, keep your mindset on finding new revenue without counting on the monthly incoming!
#3 Find New Confidence as an Accountant
You can have huge targets and start from scratch new every month, but if you don't have the confidence to actually make things happen, it's just daydreaming. Confidence comes from knowing and doing. When you know something extremely well, you have confidence in that thing. Likewise, when you do something over and over and over again, you gain confidence.
This is why it's vital to combine your "big think" and "starting new every month" with confidence in yourself selling the right services, for the right price, to the right clients. This means you know exactly what services are best worth your accounting firm's time and energy; how to grow an accounting practice selling your accounting services for a highly profitable price that still gives your clients incredible value; and, where to find these potential clients who would be a fit for your service.
Do you have extreme confidence in…
What accounting services you're offering? Do you have doubts about whether doing a bunch of 1040s is the best way to move forward? Are you confident in selling and scaling tax plans and/or CFO services?
What prices you're charging? Does the thought of doing a $1,000 personal return seem normal to you or too much? What about a $2,000 business return? If you do not know for sure your firm's own value, you will not be able to price accordingly!
Who you're taking on as clients? If the thought of adding more clients sounds bad, maybe it's because you're not dealing with the right type of clients! To grow an accounting practice, you must find your ideal clientele. Do you know who they are?
In short, the mindset to grow your accounting practice begins with thinking bigger, starting your monthly sales from scratch each month so you'll push harder, and gaining the confidence you need with knowing what to offer, how to price it, and whom to sell it to! When you combine these ingredients together, accounting firm growth should soon follow!