Blog
Get Your Dream Accounting Job Offer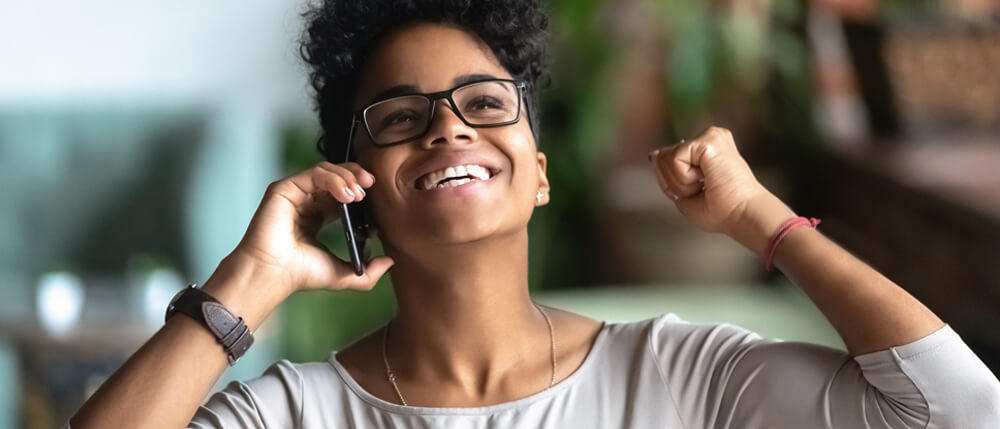 Getting your dream accounting job offer, or ANY accounting job for that matter, is a process. Your first step will involve determining the dates of each event an accounting firm will hold on your campus. Next, you should talk with someone from your school who is familiar with the hiring process. Staff from your career center, accounting professors with relationships with the Big 4 firms, and alumni who have previously gone through the process at your school are often the best resources. They can give you an understanding of the nature of each event. Ideally, they can even give you some information about the key recruiters that will be attending as well!
Gathering the Right Information to Get Your Dream Accounting Job
The goal with talking to your career center, professors, or alumni is to get as much information as possible so that when the event takes place, you are familiar with what is occurring. You can then focus your energy and attention on making a good impression on the recruiters.
The other form of research you should do prior to any recruiting events is basic information gathering. The best ways to do this are online (through Google as well as visiting each firm's homepage) and talking with alumni who have recently gone through the hiring process. Your research online can provide a basic overview of the company, current events of note, and the types of job openings at the firm. Alumni can provide valuable inside information which will give a better feel for the culture of the firm, something that is difficult to understand using outside sources.
Why Research is Important to Getting Your Dream Accounting Job
Research is not just important for you to know what's happening, it's also important from a recruiter's perspective because you are competing with thousands of other very highly qualified applicants for some of the best jobs in the country. If you don't know certain basic facts, or haven't even bothered to do remedial research, that reflects very poorly on you. In no way do you need to know everything about each company (after all, that is kind of the point of some of the recruiting events), but if you won't take the 20 minutes necessary to find some BASIC information about the firm, what are you going to do when you are on the job?
Therefore you need to take at minimum 20 minutes for each firm to research the following:
General Information

—Get a basic idea of the size and breadth of the company.

Recent Happenings

—See if any recent news of importance has happened or any big changes of note.

S

ome Detailed Information

—Discover a very basic idea of the service lines the company operates (audit and tax will be far and away the most popular, but there are other options such as consulting, fraud investigation, transactions, etc.).
Each of these points can potentially be great conversation pieces to discuss with recruiters. Not only will this help eliminate the risk of awkward silences at recruiting events, but it will demonstrate your interest and maturity. Compare the following scenarios:
Example 1: Marcus approaches the recruiting team at a career fair and asks a couple good questions when the conversation with other candidates dies down. He particularly impresses the recruiters with a specific question about their fraud investigation group, which is a smaller department and would require research to know about. This question looks even better in comparison to those asked by other candidates, such as what job opportunities are available and what the average starting salary is. Marcus leaves the career fair having found out more about the firm, while also demonstrating his interest through the work he evidently put in ahead of time.
Example 2: Tracy has had a solid interview, but near the end she stares at the interviewer with an open mouth when asked which of the firm's service lines she is most interested in. The recruiter was not expecting her to have her mind made up at this point, but it becomes apparent to him that Tracy has not put much thought into how she could fit into the firm.
Again, we're going to stress that a very basic knowledge of the service lines is sufficient. If you know everything, it is hard for the recruiters to talk much about it. You also want to avoid looking like the teacher's pet that brings the professor an apple every day. You are not supposed to have everything about these firms memorized. They fully expect you to be feeling them out during the hiring process, but it's good to have questions every time you talk with someone from the firm, especially questions with at least some amount of depth and substance.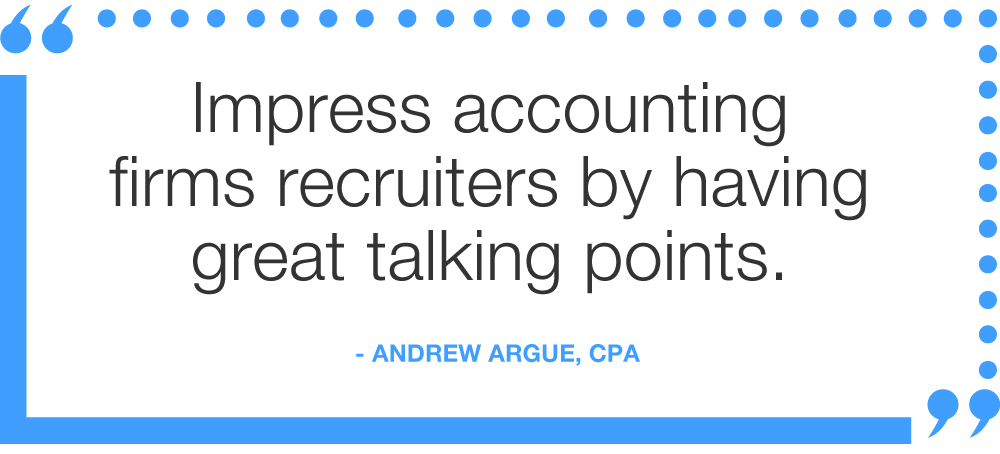 Keep Track of Your Talking Points with Recruiters to Get Dream Accounting Job
As mentioned, you should always have something to talk about with recruiters in order to consistently demonstrate both your deep interest in the position as well as your motivation for obtaining it. It is difficult to constantly come up with new material through research, and nearly impossible to come up with good material when put on the spot, so we have a technique for you to use.
The Importance of Having Quality Talking Points Ready
Many candidates reflect back and mention how much this technique helped them. We strongly recommend that you use it. Throughout every step of the hiring process, whether you are attending a recruiting event with the firm, doing your own research, or just talking to friends or family, make sure you carry a notebook around with you and write down whatever thoughts and feelings pop in your head. If a question comes to you while you are walking to class, stop and write it down immediately. Most of the thoughts you have will be forgotten within five minutes if you don't write them down.
Whenever you strengthen your relationship with the recruiting team, you thus exponentially increase your chances for a job offer. One of the keys to many of these opportunities is that you have good questions or insightful talking points to bring up with the recruiters. It's very difficult to hop online 20 minutes before a recruiting event and try to come up with a bunch of good material.
Conversely, you are almost guaranteed to think of a lot of really great things to discuss with recruiters as you continue on with your regular life. Every time a thought pops into your head, take 30 seconds to jot it down and then go back to whatever you were doing.
If you follow this advice you will find that when you frantically open your notebook the night before a recruiting event because your guide told you about a great opportunity and you have to make an impression on the recruiters, you will have a list of quality conversation talking points you have complied that you will be able to review.
Questions, positives, negatives, doubts, all of these things can be talked through with recruiters. Not only will you get great information from recruiters that addresses all these issues you have thought of, but it will be very clear to the recruiters how well you are thinking through the hiring process and how seriously you are taking it.
Remember, it doesn't take much effort to do a little research, nor does it require tons of time to write down quality talking points beforehand. Doing these two extra steps can make an incredibly important distinction between you and the other candidates in the eyes of the recruiters—and you will be one step closer to your dream accounting job!