Blog
Close More Tax Clients Using Software for Accountants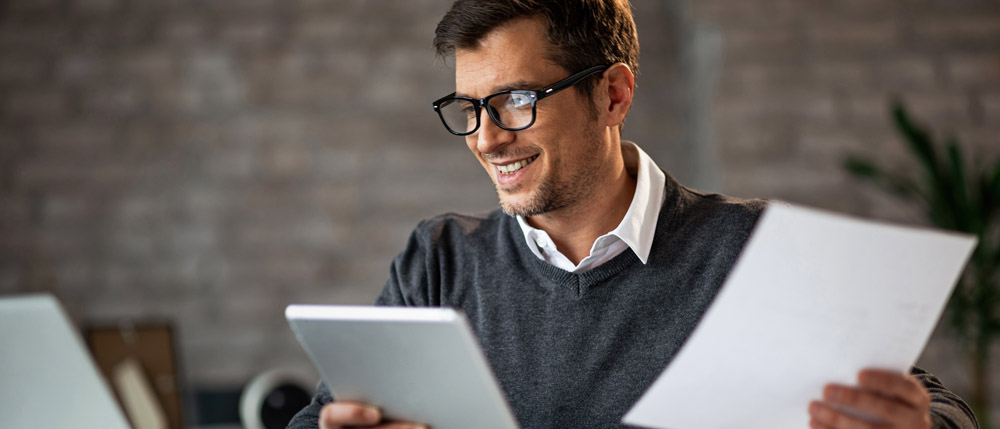 How many times do accountants say this over a call with a new prospect,"Ok, well I will send you a proposal…"? And how many times does the accountant miss closing that client? It happens way too often. The fact is, too many accountants are taking unnecessary long processes into the sales cycle, and they lose potential clients. This blog will cover why this happens and the software for accountants that many are using as the solution.
Take Time Out of the Equation to Close More Accounting Clients
On a sales call, many accountants prompt a series of actions that actually delay the sales process. Closing a sale is not just sending an engagement letter, it's getting all the signed documents back and receiving payment upfront. A deal is not closed until the cash is collected. The vast majority of accountants, even many successful accountants, only send documents out at the end of a sales call, then wait and hope the client eventually returns them. Then, they send an invoice…and again wait and hope payment will come.
The result of taking all these extra steps and all these time delays are less deals closed. Clients end up not signing documents, or not sending the payment. Time gives them the opportunity to change their mind, lose their motivation to work with you, or shop around and find someone else. Most accountants should know that a "yes" on a sales call does not always result in a closed deal.
For this reason, software for accountants is built in part to speed up getting onboarding documents signed and payment received all on the first sales call in an organized fashion. It takes the extra time out of the equation to close deals on the spot, to get clients to pay while they are on the call and feeling motivated to work with you!  
Software for Accountants Saves You from Doing Work Before Billing Clients
"The key to getting paid fast is making it as easy as possible for the client. When you're on a sales call, you can send an agreement or engagement letter for the client to sign while still on the call! This way you don't have to get off the phone and wait (and hope) for the client to get back to you, rather you can tell them to open the sent document inside the accounting software and sign on the spot."

– Andrew Argue, CPA
As they are opening and signing these documents, you can then send a billing request. The client can make a credit or debit card payment (even ACH payments!) directly in the client portal. You can also store your new client's payment information so you can quickly set up future auto payments via the portal.
In short, this means never having to wait for an invoice again. This gives you easy control over charging new clients on that first sales call, thus taking time out of the equation and letting you close more deals.
Software for Accountants Saves You from Doing a Second Onboarding Call
The vast majority of accountants will do a sales call, then they will have to take time to set up a second onboarding call with the client. The onboarding call goes over all the documents that the client needs to gather and send to you. This is a whole second meeting that takes an immense amount of time from your schedule.
Using software for accountants, you can quickly send requests for all the documents needed right on the sales call. The client will be able to easily view each document and know exactly how many more documents they need to send to you as they gather each one. The screen will even show them what percentage they have completed of their tasks!
By sending file requests inside your accounting software, you are able to have one convenient location to send and receive all documents needed for an engagement with a client.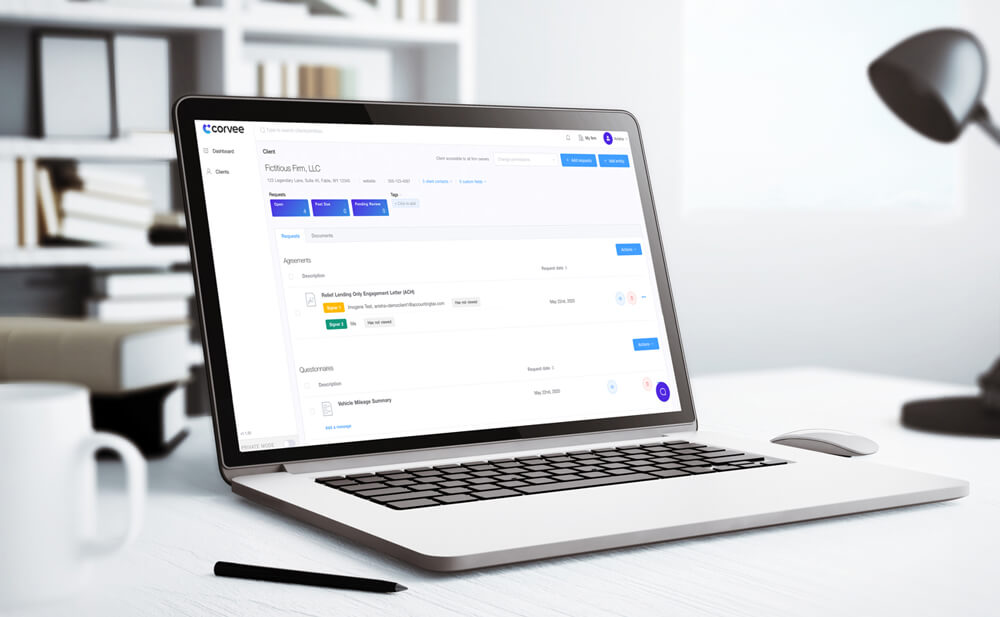 Using Software for Accountants Allows for Greater Professional Efficiency
When you can bill clients, send them requests and get a signed engagement letter all within a few minutes, it shows the client you are a professional and gets the entire engagement off to a great start. Nothing is worse—for you AND the client—than endless back and forth, tedious and insecure file sharing methods, and unnecessary meetings that could have been taken care of on the initial call. Your goal should be to save your time and your client's time. Without software for accountants, it's difficult if not impossible to speed up your sales and onboarding process.
The software for accountants we are referring to is called Corvee, which helps provide greater firm efficiency such as:
Accepting client payments directly in the client portal, which you can send even during a sales call for instant payment.

Option to pass on card processing fees to your clients so your firm doesn't have to eat the processing fees.

Easily charge upfront and in full to get the engagement rolling.

Option to charge a percentage now and percentage at a future date.

Bill the client on a recurring basis either annually, quarterly, monthly, or weekly.

Add custom branding with your firm logo to invoices.

Receive access to all the integrations you desire through Zapier, which can trigger actions in other applications you use.

Pre-made templates for each type of engagement you do: bookkeeping, accounting, controller, CFO, tax prep, quarterly tax, tax planning, tax resolution etc.
Many other accounting and tax firms have stopped chasing after invoices and have started accepting client payments with ease inside Corvee. If you want to start closing more clients and speed up your entire onboarding process, beginning to use software for accountants should be your top priority!
Accounting software should provide convenient ways to receive and manage engagement letters and custom agreements from clients. Accounting software should provide you easily accessible questionnaires for clients, including a secure portal, two-way messaging and notifications, document segmentation, and dashboards that give you insight into your clients. Accounting software should be able to generate reports of all your clients by type of engagement, including the easy creation of tags to allow for quick searching and organizing of your client files.
Corvee allows these integrations to become a reality in your accounting firm.