Blog
Grow an Accounting Practice with Clients That Are Actually Profitable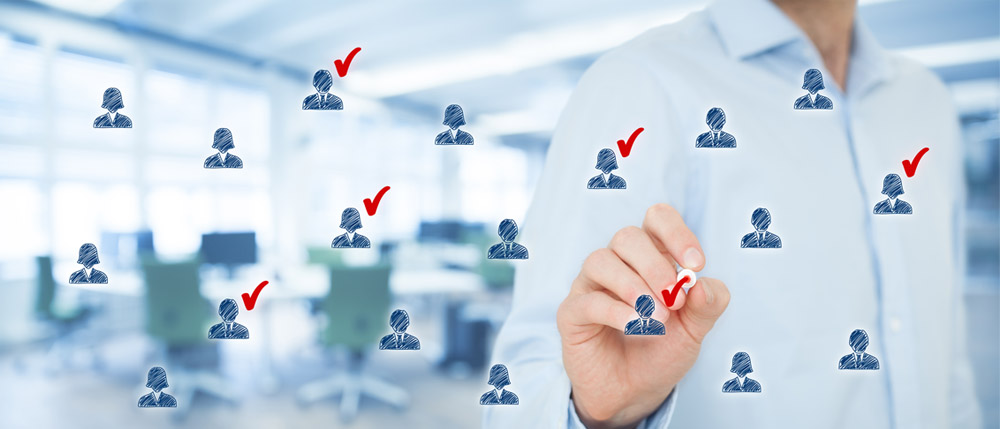 When you first start out building an accounting firm, you (like most accountants) take whatever clients you can get, right? It doesn't matter if they are needy, annoying, or even rude, they pay you $300 or $500, or whatever your price is, and you put up with their behavior. Once you reach $100,000 per year in sales, it is important to shift your focus to not just getting clients, but rather securing the right clients.
This means not only becoming more picky with who you take on to do your accounting services with, but what type of clientele you should even pursue to begin with. Nowhere is this truer than with a CFO business, mainly because of the ongoing relationships you will have with your clients. You are going to have to work with these people on a regular basis, and if they don't know how to treat you and work on your terms, if they can't respect the scope and the boundaries you set, it will not make for a pleasant engagement for your accounting firm moving forward.
Find Accounting Clients Who Appreciate You
Your clients have to see the value of your accounting services and respect your pricing. If your clients are texting you every 15 minutes because they think they are paying a lot of money and therefore should have an on-call CFO, you will NOT be able to grow an accounting practice to multimillion-dollar firms of annual revenue. Those kinds of clients are bad for you to be able to scale.
Therefore, once you have grown to $100,000 per year in sales and are on steady ground, covering basic expenses, and are able to focus on the business full-time, you need to make your next priority working with the right clients, not just any clients. This is where the importance of a niche comes in. You can start specializing in one service to get specific new clients (whom you want) in the front door, and offer deep value to this particular type of client. Then, you can upsell them to more services.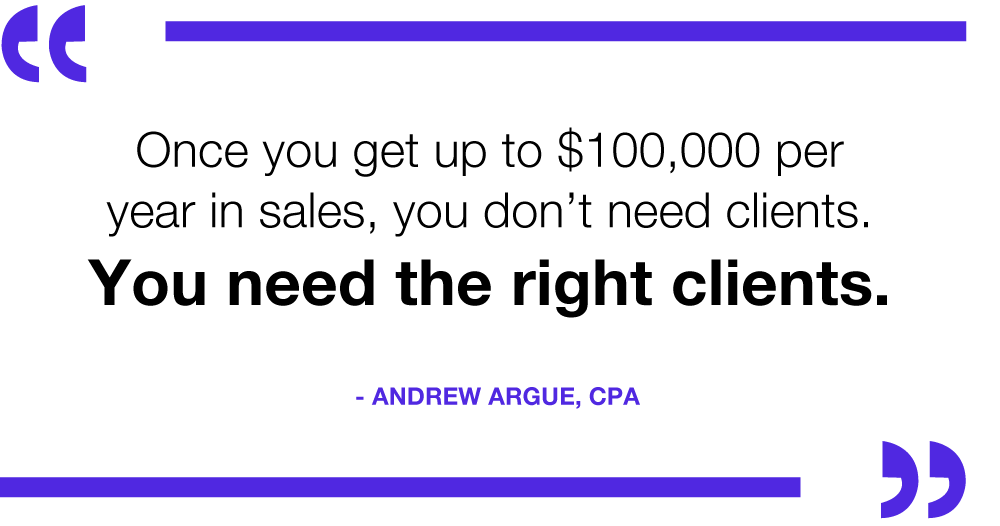 If you don't have a high-margin accounting service with a specific client in mind for it, your business model is broken from day one. This is true for hourly accounting services as well. Your business could be good, but it will never be great unless you learn to use fixed prices accordingly.
Find Accounting Clients Who Will Pay Fixed Fees
Think about it like this, as you grow an accounting business, do your margins increase, decrease, or stay the same? As your accounting practice grows, you're supposed to get economies of scale. As an example of getting economies of scale, if you hired a group of CPAs and accountants to do tax plans for you, where you had a 4 person team that could process 4 tax plans a day…but they get better with internal documentation and processes, they can soon start doing 6 tax plans per day.
With economies of scale, you are able to invest in your process and hire better people, which over time can keep costs the same while growing top line revenue. If you're always doing hourly engagements, the margins are the same. Always. This is because if you price by the hour, the only way to improve margin is to increase your hourly rate.
When you do hourly accounting work, the margins cannot increase. Meanwhile, if you have a fixed fee, but you're taking on AP/AR, accrual accounting, and cleanup engagements where the work takes a lot of time, your margins will go down. What you want is a fixed fee for accounting services that you can do in a reasonable amount of time, that will also give you opportunity with efficiencies of scale to increase margin!
This is why it's important whenever you're evaluating a client, to remember that it's not good for your accounting firm to take on everyone. Think instead, "How is this client going to affect the P&L?" If you onboard that client, how is the income statement and balance sheet going to look different before and after?
Grow an Accounting Practice With Clients Who Are Good For Your Profit Margin
As mentioned above, you can begin charging higher fixed fees once you market to specific niches as opposed to being a generalist accountant. As you begin to specialize in solving particular problems for a specific group of clients, your accounting services become higher value to these people. This means you will be able to command higher fixed fees, and hence, have the possibility to improve margins with efficiencies of scale.
As you think about your niche, you may already have one. If you have done 400 strategy sessions with construction companies, there is a tremendous amount of knowledge that comes from those. If you can't pinpoint a niche, the quicker you can pick one, the better. Then begin doing strategy sessions with your niche so you begin compounding on that one knowledge base.
It should be pretty easy to get niche strategy sessions if you want to because you're literally just trying to get an appointment with someone to learn about their business. Anyone in your city that's in a niche, send them an email. Go to networking events. Search online and get phone numbers and start calling people. Use social media, especially LinkedIn.
The point is, to find good clients who will be best for your P&L, you need to have a defined niche that you best serve. This gives you a competitive advantage over generalist accounting firms, which means you can command higher fixed fees. As an accountant who serves a niche, you'll understand your particular clientele better, and can thus bring them better service. Plus, once you have a niche, it's easier to find clients because you know exactly where to search for them—you have a defined target!
Defining The Right Accounting Clients To Pursue
You need to know each lead is not made equal. In fact, only about 20% of your leads should be marketing qualified leads (MQL), which means most of your leads are going to be weak. You can define each of these MQLs as followed:
Starter—A person who is just starting a business or is doing less than $300,000 in projected revenue. As you can see from the chart, they also have less than $70,000 in projected income and under $100,000 investable assets. These are people who you'll be able to sell certain services to, but they'll be limited to what they are willing to pay for.
Small Business Owners—These are MQLs who have a business and are doing at least $300,000 to $1 million in projected sales. These leads will be more able to pay for your services. They should have an income from $70,000 to $500,000 along with investable assets ranging from $100,000 to $1 million.
Top 100—Here are your best MQLs. These are the business owners doing over $1 million in revenue with $500,000 + income. These clients will have the ability to invest in all your services.
Examples of non MQLs can be:
A person with a job with no intent to start a business

Another accountant

If you're niche specific, businesses that aren't in your niche
If you do have a MQL, no matter what level they're at, you want to get them on the phone to do a discovery call. During this call, you'll find out if they are a sales qualified lead (SQL), meaning you'll see if you're talking to the actual business owner or just the office manager.
Once you have a SQL on the call, and know for sure your services can help them, you can then go through your sales deck and pitch which services you want to offer them.
Use the above chart to see the lifetime value and cost to acquire for each MQL. You might have different custom pricing for each tier based on your client's needs, outcomes, and willingness to pay—but it's pretty clear the big business owner in your niche is a better client to have than the starter individual.
This also shows how drastically different your accounting firm becomes when you go after higher margin business owners, who will pay $30,000 a year in recurring revenue with high margin work, compared to $400 per year individuals who give you low margin work: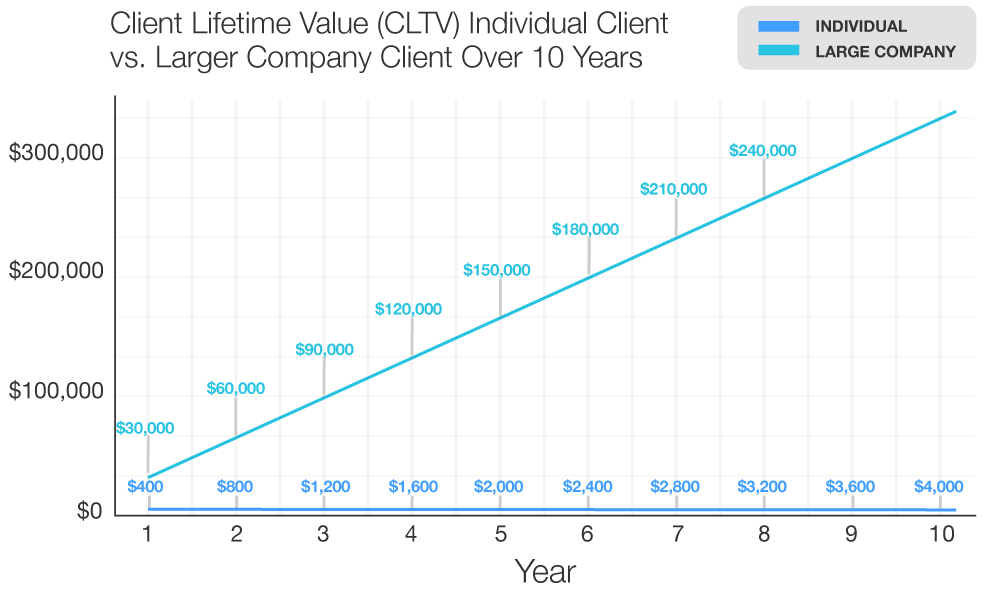 So, if you're tired of low margins, if you're weary of nagging clients who are difficult to deal with, if you don't even have a defined niche to know which clients you should pursue…then we can help. In order to help you grow an accounting practice, we'd love to help you discover how to sell higher margin services to the RIGHT clients. If you're ready to learn more about picking a niche and getting the right clients, fill out the form below and be sure to check out our accounting firm software as well!