Blog
Upsell a Tax Client from a Schedule C to a Tax Plan with Software for Accountants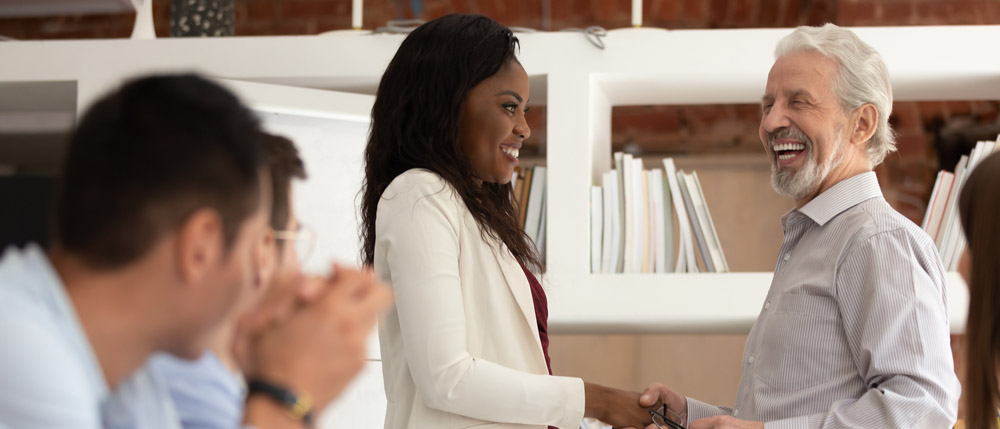 Want to Learn How to Turn a $650 Schedule C into a $9,800 Tax Client?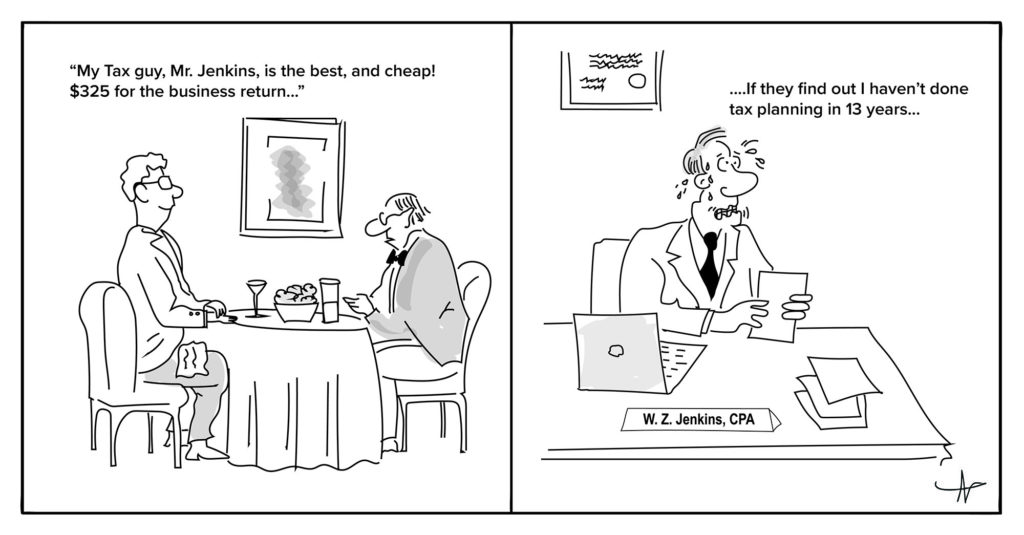 Fact: Tax Prep fees are low compared to tax planning fees. It's hard to build a million dollar tax firm doing tax preps alone. This is because not only are your prices low (usually well under $1,000 for each client) but your workload is high. That means to service all your tax prep clients, you have to work like crazy (especially in spring) to meet the demand.
Low fees and high workload are NOT a recipe for success. That's why you want to flip that and have high fees and low workload. Then your tax firm becomes scalable and profitable. What's not scalable or profitable is having what we call a "low and lumpy" strategy…pricing all your different services lumped together like these:
Free Tax Assessment

Tax Preparation

Tax Planning

Implementation of Tax Planning Strategies

Quarterly Estimates

All tax support questions for 12 months
Many tax preparers are doing all these (and not well) because their prices are so low that they simply can't get to it all. They need fewer clients with higher fees, not more 1040s!
Turn Every Single Schedule C to a Tax Plan
Make a list of the following:
Your Business Returns

Your Schedule Cs

Your Monthly Accounting Clients (not currently on tax prep)
Sort these clients by revenue/income.
Formula for Getting Tax Plans
Reach out to these clients in the order of their revenue, from biggest to smallest. You can do this via text, email, Facebook message, or a phone call—whatever you feel comfortable with. The goal of connecting is to provide more VALUE to them by offering tax planning as a service.
During your call, you will get an update on how the business is doing. Next, you'll want to set up a more specific strategy call to go over in detail what you can offer them. Using a tax planning sales script, you can give them current and future year tax projections, but also current and future tax savings projections (if you implement a few tax planning strategies). That, in short, is an abbreviated version of how you can upsell a client who paid $650 last year for a Schedule C to a tax plan between $2,500 and $9,800.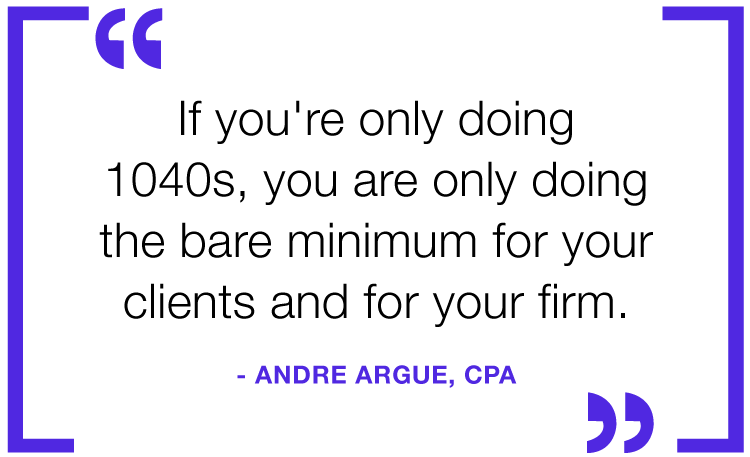 Next, send all the clients that don't take your tax planning offer a price increase letter for their tax prep. This is very important, so do it even if it's uncomfortable and scary. If it's a business and the prep is less than $700, double the fee. If it's an individual and less than $400, double the fee. This is because once you begin offering tax planning, your pricing for tax preparation should be on a higher level. Ideally, you should be shooting for between $750 to $1,000 for individual preps and $1,500 to $2,000 for business preps!
The goal is to double your fees on tax prep. Know that you'll lose a certain percentage of your clients because of the increase, but you'll skyrocket your revenue by an even greater percentage between doing higher priced returns alongside tax planning. The end result should be more profit with less work.
Regular Tax Preparers Versus Special Tax Preparers
The normal, everyday accountant will NOT turn a Schedule C to a tax plan client, even though it's sitting right there for the taking. You have to be aware of the opportunities right in front of you! Most accountants aren't doing tax planning, even though their existing clients would buy it if it were presented to them in the right way.
When you offer tax planning, we typically recommend you charge $2500 to $9800 for the very first engagement. The tax plan is essentially educating the client on the specific tax strategies the client can implement in their business and life in order to save money on taxes. When you go through and you offer the tax plan, specifically following our sales scripts and sales decks, if the client wants to talk to someone else, they are probably going to encounter another accountant who is going to charge $650 for just the tax preparation service—and this is a good thing!
As an example, one of the accountants we work with is named Erik. He is a successful accounting and tax firm owner and decided to pitch a prospect on tax planning. He was on a sales call with her and she asked for a couple of references before she would move forward. He decided to grant the references to the prospect in hopes of closing the deal.
At this point, he was not actually doing the tax implementation of the plan or the tax prep, he was just doing the initial educational component by helping small business owners pay less in taxes. His client went to speak to two other accountants. A few days later, the client came back around and reached out to Erik. Here's what happened: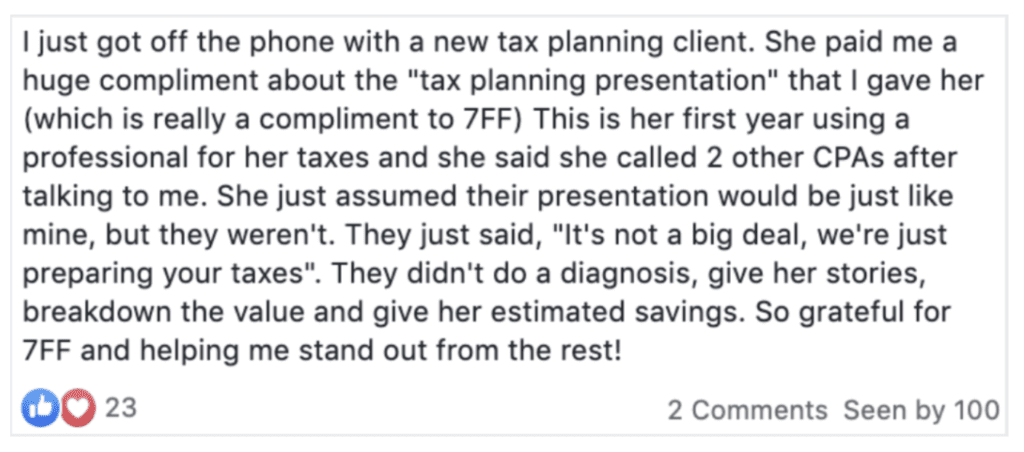 This is all indicative of the struggle that most accountants experience. It actually isn't just about offering tax prep versus tax planning, or accounting versus CFO services. It's about trying to help clients at a high level and doing something special for those small business owners.
Regular accountants go through the typical motions; special accountants look for that extra, higher service that can be done. So, whether you are an accountant, CPA, EA, or Tax Preparer, you need to figure out different ways to do the following:
Provide more value to clients

Reprice existing engagements

Add higher level services

Get appointments with the right types of potential clients
Those need to be your goals if you are going to separate yourself from the average tax firm. Remember, tax planning offers more profit opportunity, less time-intensive work, and happier clients. So, start turning that Schedule C to a tax plan client today, and we can make it easier with our tax planning software for accountants.
Tax Planning Software For Accountants Speeds Up Your Workflow
It's one thing to turn a Schedule C client into a tax planning client by doing all the calculations yourself and searching for possible strategy combinations…but it becomes so much easier when you leverage technology. Tax planning software for accountants can do the bulk of the time-intensive work for you by quickly finding possible savings across multiple entities and years. It can also create custom-branded tax planning proposals and finalized tax plans in ready-to-send PDFs so that you aren't stuck in a Word document typing up a long deliverable.
In short, if you are going to get into tax planning, it makes sense to at least explore the tax planning software for accountants that is available to you. Why scour the entire tax code when we've already done it for you? Corvee Tax Planning software finds the most common and effective strategies for each of your clients for:
Maximizing deductions
Legal entity structures
Retirement planning
Insurance and asset protection
Legal loopholes
Tax Cuts and Jobs Act (TCJA)
Families First Coronavirus Response Act (FFCRA)
Coronavirus Aid, Relief, and Economic Security Act (CARES)
Niche-specific strategies
Advanced strategies
International asset and gift freeze
Tax-advantaged wealth management
Exit and capital gains
If you want to demo this tax planning software for accountants, fill out the information below.