Blog
How to Hack Tax Season with Accounting Practice Software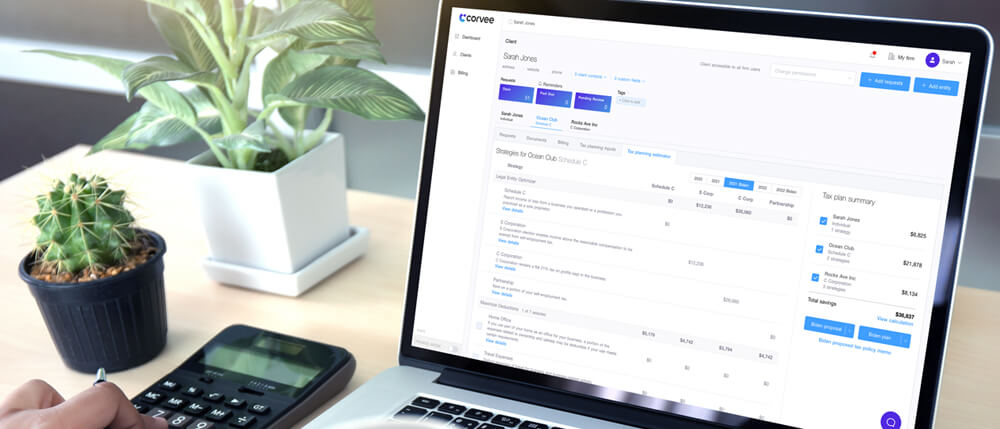 So many firm owners work too hard during tax season with too little to show for by the end of it. You overwork between January and April, then you burnout and want to take time off in May. While many firms do make a large portion of their revenue during the spring, they could be doing much, much more. This blog will cover how firms can use accounting practice software to "hack" tax season for bigger profit.
The Only Reason This Tax Season Won't Be Different
You cannot change if you do the same thing every day. If you don't change what you do this tax season, you're not going to get a different result. So, if you've been dissatisfied with how previous tax seasons have gone–either too much stress and work or too little profit—then you must change how you do things or you'll experience the same result year after year.
What if this tax season you could:
Increase client value through additional tax savings
Translate that client value into increased revenue for your firm
Set your pricing and packaging to increase profit margins
The fact is, successful firms do all three. If you want to change your firm, you'll have to do some things differently compared to how you've worked in the past, and it all starts with an eye towards increasing client value through additional tax savings. In other words, tax planning.
The Tax Preparation Questionnaire is Key
You likely already use questionnaires to help get the data you need to complete tax returns. Some of the problems most firms have with data collection and sending and receiving files in general, include:
Massive delays in sending and receiving signed engagement letters (if one is even sent)
Delays in processing payment on engagements (and sometimes starting work before payment)
No structured onboarding process
Files and requests are being sent back and forth via email (unsecured)
No reporting on the outstanding requests per client
Waiting until last minute tax deadline for all files causing spikes in workload
Sales and onboarding process is taking up 50% of billable hours (that are not actually billable)
The important thing to remember is that tax planning questionnaires can actually be a key component of making a tax plan. This is because questionnaires allow you to obtain key pieces of data to produce a tax plan successfully. Sections a good tax preparation questionnaire will have include: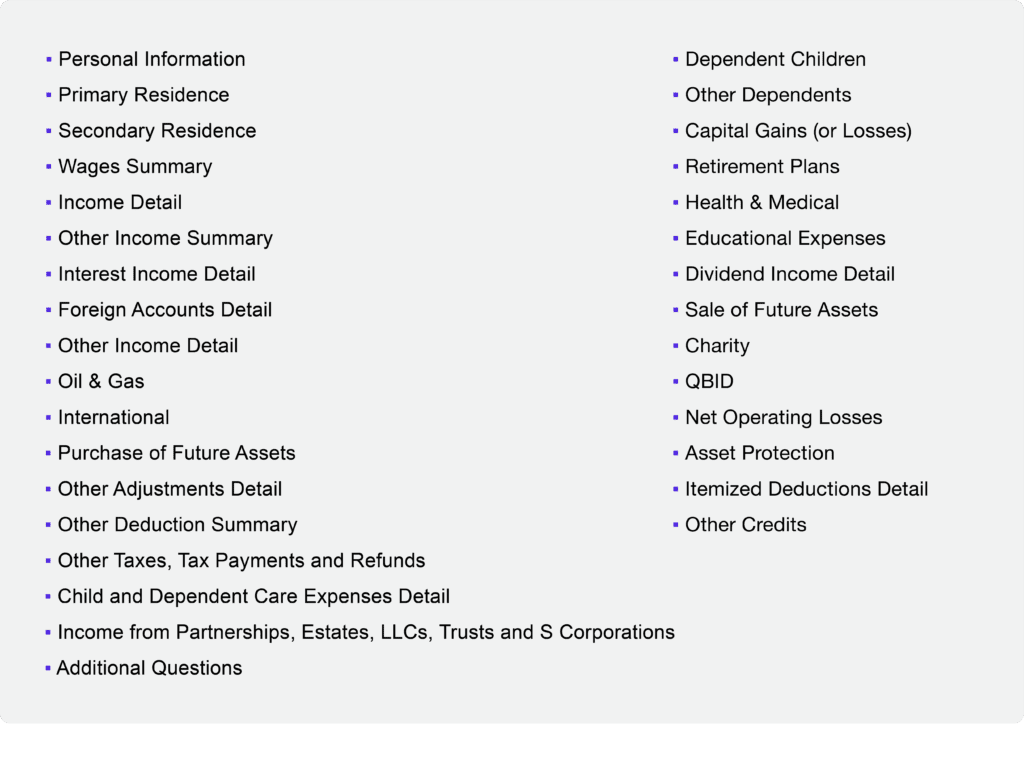 Tax preparation questions for businesses to obtain the key data you need to prepare a return AND complete a tax plan, include sections about:
General Information
Business General Finances
Business Income
Business Expenses
Business Vehicles
Income
QBID
Tax-Free Rental
Retirement
Employees
Payroll
COVID-19
Fringe Benefits
Insurance
Sale of Assets
Purchase of Assets
Corporate (C or S Corp)
S Corp
Partnerships
Sole Proprietorship
Future Partners & Shareholders
Rental Real Estate and Royalty Income
Farm
Farm Rental
Depreciation
FICA Tip Credit
R&D Tax Credits
Work Opportunity Credit
International
Tax Payments and Refunds
Foreign Accounts
Your firm can begin incorporation of tax planning questions within the tax preparation questionnaire. Our tax practice software has built-in questionnaires for this that you can use to begin collecting the information you need for tax planning while working on tax preparation. You can also scan tax returns to input data inside our tax practice software.
By simply using the right tax preparation questionnaires, you can have 70%+ of clients fill out a tax preparation questionnaire that is linked to the tax planning software. After April 15th, you'll be ready to do tax planning for a large portion of your client base.
Increase Pricing for Light Delivery and Profit
One thing that many firms do wrong is lumping together different services into one low price. To excel during tax season, make sure that cleanup is not included in tax preparation.
Monthly accounting is separate from tax services
Business and personal returns are separate fees
Tax planning, preparation, quarterlies, and implementation are all separate fees
Don't lump anything together! If you're not sure where your pricing should be, consider using this pricing cheat sheet: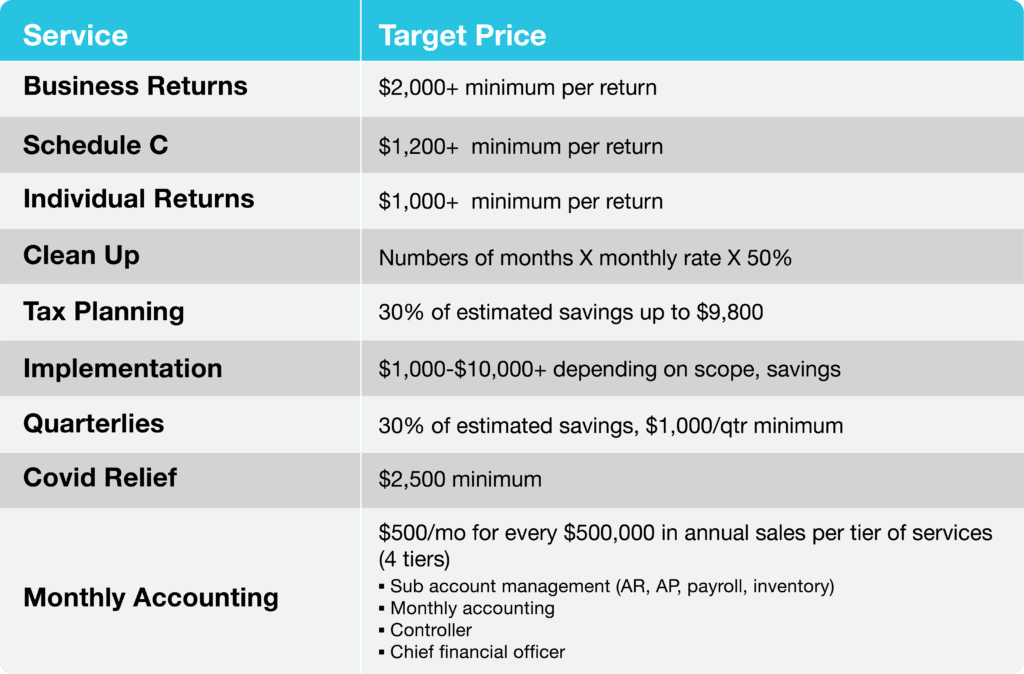 When you get your pricing right, you give yourself opportunities to upsell. You can get clients to go from tax preparation to tax planning, then to implementation, quarterlies, investments, insurance and more.
By presenting clients with a new opportunity such as tax planning, you will increase your revenue. There's a consistent order to this, and it can be summarized as this:
Questionnaires + Pricing + Upsells = Revenue
Start the process by taking advantage of tax season. Use the right questionnaires so that much of the work of tax planning is already taken care of. This is a tax season hack very few firm owners take advantage of. Then, get your pricing right and begin upselling clients to more services!
On top of the extra revenue this will bring your firm, this method allows you to save clients more. With our accounting practice software, you can:
Collect all client information in one place so you can see the status
Only start the return when you have everything to finish it in one sitting
Automate 80% of the collection, process and deliverable creation
Focus on the questions and inputs, and let the savings calculate for you
Add your own strategies and override calculations when needed
See how each strategy is calculated and edit every single input
Analyze thousands of strategy combinations in minutes
Automatically calculate the effect of all strategies against all legal entities
Export and edit proposals and plans to review with the click of a button
Stop doing things the old way, which is strictly preparing returns for compliance. Stop looking at last year only and start being proactive for your clients by looking at their future and what they could save. Stop doing just tax preparation during tax season and start using the right questionnaires so you can begin tax planning and leverage the work you're already doing.
The new way is about reducing taxes with proactive planning and using tax practice software to calculate thousands of strategy combinations. Start getting clients to pay for planning, implementation and quarterlies, and use automation to enable staff to sell and fulfill tax plans without you. With accounting practice software, it's possible, so schedule your demo today!