Blog
Move From Bookkeeper to CFO Even If You've Never Used Accounting Firm Software Before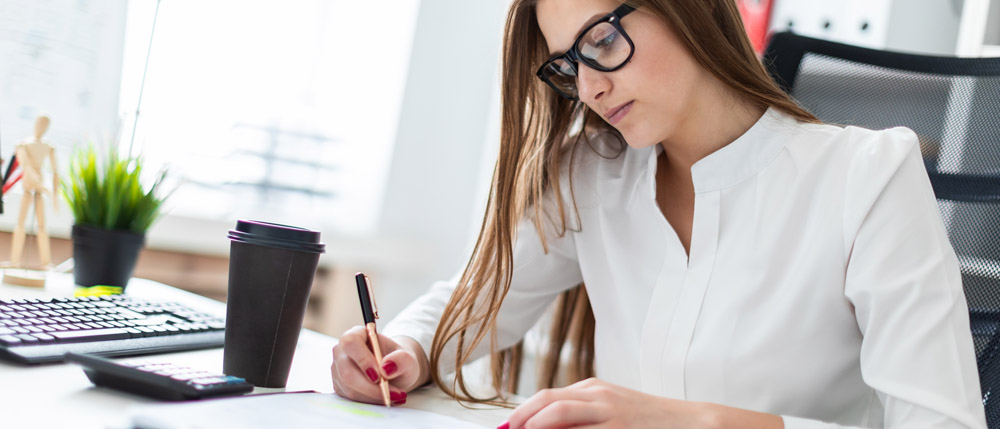 As an accountant looking to grow an accounting firm, do you just add up numbers, or can you help increase profits, increase sales and improve margins for clients? That's the difference between a bean counter and a CFO. If you are tired of just sticking to the traditional domain of reconciling books and doing taxes, then you're ready to be a CFO.
You will work alongside entrepreneurs and business owners to help them see exactly how much profit they're making, plus understand the key drivers of those profits and how to expand them. You'll be going on missions to discover the optimal tax structure for these clients, use accounting firm software and create methods to increase revenues for them.
A CFO business is different from financial coaching and tax planning in that CFO engagements can often be BIG deals because these clients will stick around for a long time! As an example, if you get one client at $2,000 a month, that's $24,000 a year. If that client stays for 5 years, then it's a $125,000 deal! So, when you get a client to stay, there's a lot of value that's created over the long term.
With CFO services, you don't need that many individual clients on a weekly and monthly basis in terms of appointments and meetings. With financial coaching, you can get higher sales, faster—but it can also drop in an instant and you have to be on it all the time. CFO services take a little bit longer to get ramped up, but it's an asset you can scale and even sell.
With those caveats, how can you actually become a CFO and grow an accounting firm?! 
How to Become a CFO Step #1: Call Yourself a CFO
Chances are, you might actually already be offering CFO services, but you just don't know it yet. Most accountants and most clients aren't sure exactly what services a CFO even offers. If you're performing a basic engagement where all you're doing is reconciliations at the end of the month and closing up the books, you're NOT doing CFO work.
At first, you may think a CFO just helps with obtaining investor funding or securing debt contracts, but in the small business world, it can be much more than that.

You may think that you can only call yourself a bookkeeper, but if you're doing any type of accounting services, you should call yourself a CFO. Why? Because there's a stigma of what value you bring to the table if you are labeling yourself as a bookkeeper, and it comes at a cost with higher fees you could command as a CFO.
If you switch your title to Outsourced CFO, you are taken seriously right off the bat and you can start charging what you deserve, like a $2,000/month outsourced CFO client compared to a $100/mo bookkeeping client.
Here are signs you DONT have the right services to call yourself a CFO:
You're not helping your clients increase sales

You're not helping your clients increase gross profit

You're not helping your clients increase net profit

You're not helping your clients increase net worth

You're not helping clients save money on taxes using

accounting firm software

You're providing more bookkeeping than forward looking statements

You have clients over $500k or $1M per year, but not clients paying $1,000/mo+

The only thing you give clients is the balance sheet and P&L

You're providing "client accounting services (CAS)" and not CFO services
How to Become a CFO Step #2: Properly Onboard Clients
Onboarding calls are an important step to distinguish yourself as a professional CFO rather than a low-end bookkeeper. It's also practical, because without a proper onboarding call, onboarding takes forever. If you just send a list to the clients of what they need to give you, they're not going to respond. You just end up waiting forever for them to send you the things you need to get started.
So, here's the better way to onboard a new client. Explain to them, "This is how it's going to go. We're going to schedule a kick off call. It's best to have any of the people that are going to be working with us on this call." We recommend using Zoom or perhaps a Google Hangout call. Zoom is nice because you can record meetings and it's also free. We suggest video for a couple of reasons…
It's good to be able to share your screen.

It's also important for the client to see who you are.
The main purpose of the call is to review the scope of work and to gain access to anything. Also, be sure to talk about any communication expectations along with important deadlines.
How to Become a CFO Step #3: Set Boundaries with Customers
Setting boundaries with clients is a great way to gain compound interest with your most valuable asset—your time. Compound interest doesn't just apply to money. Most of all, it applies to your time! If you can just tweak your priorities and time allocation a little bit, and let that compound over time, watch what happens. It only takes a small improvement to gain huge momentum over time and grow an accounting firm.
This is why you want to establish boundaries in your CFO kick-off call and clearly define the scope of your engagement. A big mistake I see many accountants make is letting customers text and email them any time of day and any day of the week. They let it interrupt what they're doing. They don't set boundaries!
How to Become a CFO Step #4: Appropriate Pricing
If you feel like you're good at sales because you close people all of the time, that might be a sign that your pricing is bad. If you're closing 30-35% or more of prospects you talk to, your pricing is too low.
You should only be closing around 20% of the time. For example, if you want to close 4 clients per month, then you need to put 20 appointments on your calendar. Your time is valuable, so make sure you're not undervaluing your services and selling yourself (and your clients) short!
Signs you don't have the right type of clients include:
You can't onboard 1 new MRR client per week (4 per month)

You don't have 50% profit margin on cash

Your fees are less than $500/month per client

You don't have time

You don't have the money to hire more people
How to Become a CFO Step #5: Rinse Your Clients
To rinse your clients simply means to get rid of your current low-end bookkeeping or tax prep clients in favor of CFO clients willing to pay higher amounts.
Here are some "rinsing" tips:
Generally your existing clients won't all stay.

But if they do, in this example below, you'll have 3 clients at $3,000/month vs. 2 at $600/month.

But let's say both leave. You still have 1 client at $1,500/month. Still better.

Generally we see 50% stay, and 50% go, which in this example would leave us with 2 clients at $2,250/month.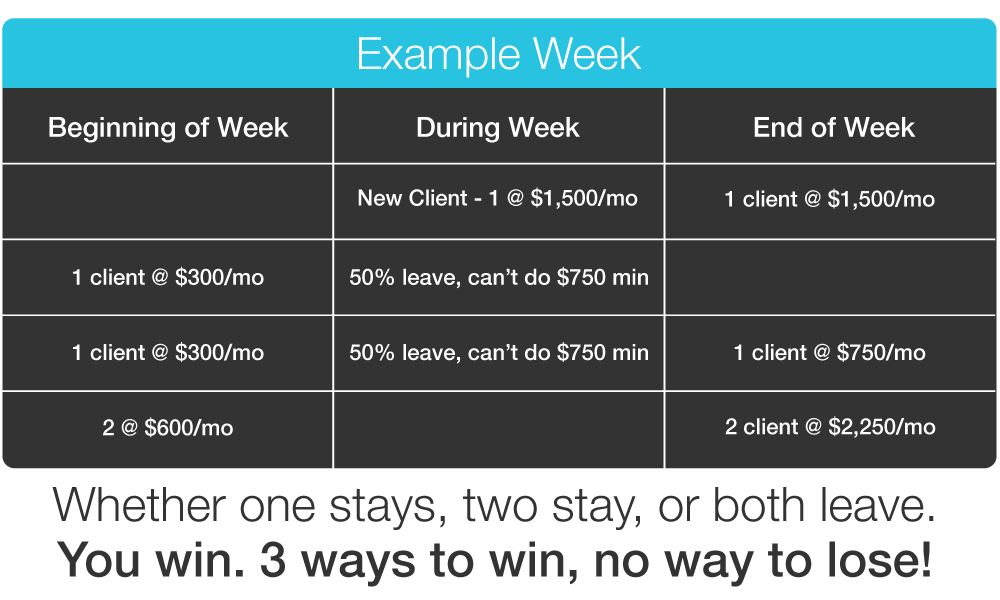 Remember that CFO work is not only more rewarding for you financially, it gives your clients more value.