Blog
How Accounting Firm Software Helps You Deliver Tax Plans for Clients During 2021 and 2022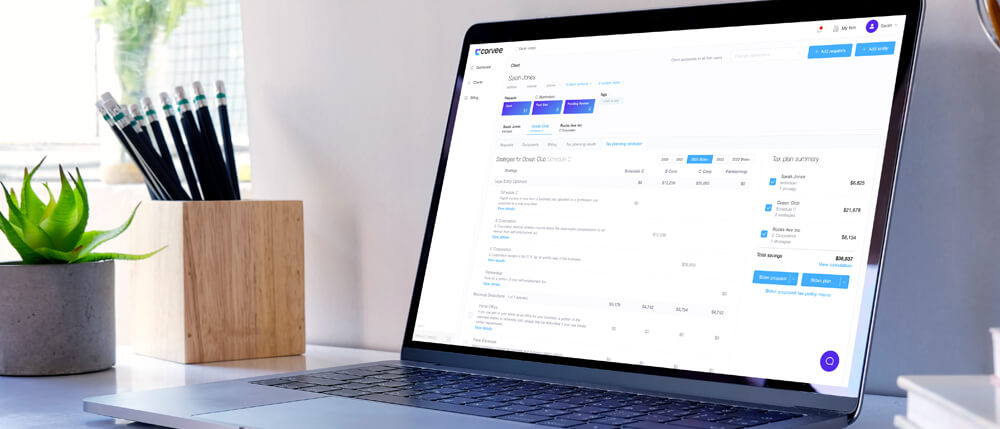 There are many accounting firm software options available on the market today, but only one gives you the ability to deliver tax plans specifically for new tax laws passed during the recent Coronavirus Relief Bill in December, 2020. In that omnibus agreement, many tax updates were given, including:
Emergency Sick Leave Credit
Family and Medical Leave Credit
FFCRA Health Insurance Credit
Employee Retention Credit
Section 139 Disaster Relief
100% Deductible Meals
In this article, we want to show you some examples of how accounting firm software already takes into account these new changes as you proactively deliver tax plans for clients in 2021 and 2022.
Deductible Meals Inside Accounting Firm Software
One surprising piece of legislation in the 5,593-page Coronavirus Relief package was the inclusion of 100% fully deductible meals for businesses if purchased from a restaurant in 2021 and 2022. For this reason, we've included an additional question inside our accounting firm software regarding the total meal expenses spent on restaurants.

We also included a breakdown of the different types of meals so you can easily calculate the total deduction for meals.

Then, we do a breakdown of the different types of meals that are displayed here to calculate the total deduction for meals.
These are just some of the new updates we are constantly implementing into our accounting firm software to ensure you're getting more value to your clients.
ERTC Inside Accounting Firm Software
Another big update inside the recent omnibus agreement was the legislation on the Employee Retention Tax Credit. In our questionnaires and tax planning inputs, we include requests for client's gross receipts in 2019 and 2020, which will relate to the ERTC.

We also ask about qualified wages in total to make sure the credit is calculated correctly:

You even have the ability to manually override these numbers in case you have a client that was not in business in 2019 and is choosing the alternative quarter. Knowing there are multiple factors included in this calculation, we have broken down for users step by step to understand how these calculations are done in relation to the eligible quarters and wages.

Section 207 only allowed the credit to be taken in Q1 and Q2 of 2021 at the time of writing this article. Understanding the amounts paid for eligible wages under a shut down vs overall for that quarter will help determine which amount to utilize in the credit—and we make this all easy and intuitive to figure out inside our tax planning software.
Calculating Tax Plans for Clients With New Tax Policies
President Biden is proposing more possible tax changes. For starters, he's discussed raising the corporate tax rate to 28% and instituting a minimum tax of 15% on book profits for larger businesses. He could also expand the GILTI tax rate from 10.5% to 21%.
In addition, one of Biden's biggest changes to the corporate tax code is his "Made in America" tax credit. This 10% credit would be made available to businesses that create manufacturing jobs for American workers. It would be given to companies that:
Reopen a shut-down factory (or a factory in the process of closing)
Refurbish existing facilities to help further manufacturing technologies
Bring service or production jobs to America
Expand current facilities to enhance production capacities
Increase manufacturing payroll for American workers
This is not to mention the individual tax law changes that could be coming, such as increasing the top marginal tax rate back to 39.6%, raising capital gains for higher earners, expanding the Child and Dependent Care Credit and raising estate taxes.
All these possible changes make tax planning difficult in 2021 and 2022. Add on top of that all the other struggles firm owners have with tax planning, and it becomes overwhelming:
It's difficult to know what questions to ask clients in regard to planning, especially when you know tax policy could be soon changing under a new Presidential administration.
You don't know if you can accurately calculate the tax savings given what you know
It becomes even more difficult when you try and consider multiple entities or years
What is the actual tax savings in 2021 and 2022 when each strategy adds deductions and lowers taxable income across tax rates?
Automate Your Tax Planning
Acknowledging all the present difficulties, including incorporating new legislation in the recent COVID relief bill and any upcoming tax policy changes, tax planning in 2021 and 2022 is still a huge opportunity for your firm. This is because whenever there is a large amount of change, it opens up more tax planning opportunities.
Whatever new tax policies come, our accounting firm software will quickly incorporate them into our system so that you can give timely, accurate tax plans for your clients in 2021 and 2022.
Automatically calculate over 60 tax planning strategies across multiple entities instantly
Determine prior year estimated overpayment, current and future year savings
Calculate savings at the strategy level, entity level, multi-entity level, and multi-year level
Recommend proactive strategies including calculations, descriptions and code references
Quickly create 10-15 slide tax planning proposals and 10-100 slide tax plans plans that save clients tens, to hundreds of thousands in taxes
If you're already doing tax planning, why spend so much time and energy trying to stay up-to-date on the latest tax legislation when you could simply use our tax planning software to calculate for you and rest easy knowing that we already take into account tax policy changes.