Blog
How Tax Planning Professionals Can Get More Tax Clients: Breaking Down a Sales Call For Accountants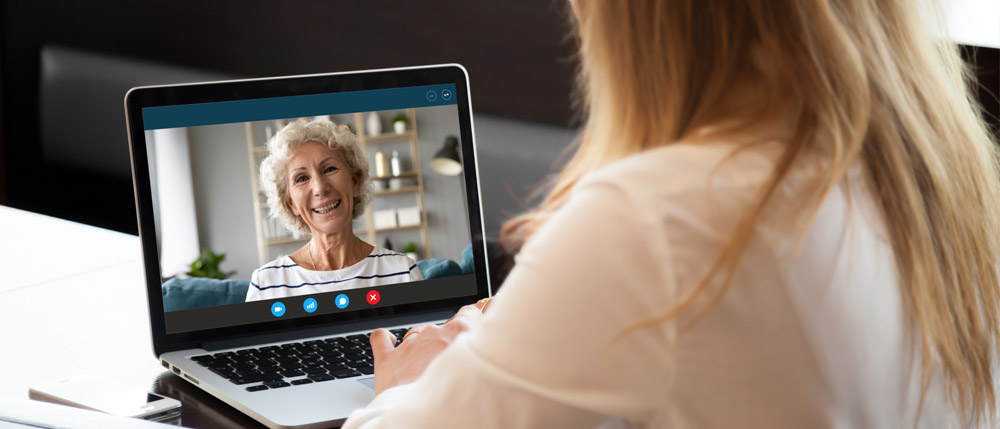 In order to master sales as a tax planning professional or accountant, you must master the sales consultation. This blog will cover each part of the call in order to give you more knowledge on how to properly lead your sales appointments with prospective tax or accounting clients.
Get More Tax Clients by Knowing How a Sales Consultation Flows
There are several parts to a successful sales call that tax planning professionals need to master. Whether you're selling CFO services, wealth management, tax planning, or even just basic bookkeeping and tax prep, the principles mostly remain the same. You must know the following parts are all vital:
Introduction

Diagnose

Pitch with Offer

Objections

Close
Let's look at each of these elements a little closer:
How to Get More Tax Clients: Having a Great Introduction to Your Sales Call
When you first begin a sales call with a prospect, you have to set the agenda and take the lead. What does that look like? If you're touching base with someone in your powerbase that you've yet to offer your services to, it might look like this:
"Hey Bill, glad we got connected. I thought about reaching out to you to see if you need help with your accounting and tax work. I realized recently I haven't yet reached out to you, so I thought I'd see how things are going and whether I could provide you with any guidance or advice. So, tell me, how's the business going this year?"
A good intro makes it clear you have an agenda and you are leading the call. Don't be timid, but rather be confident and friendly.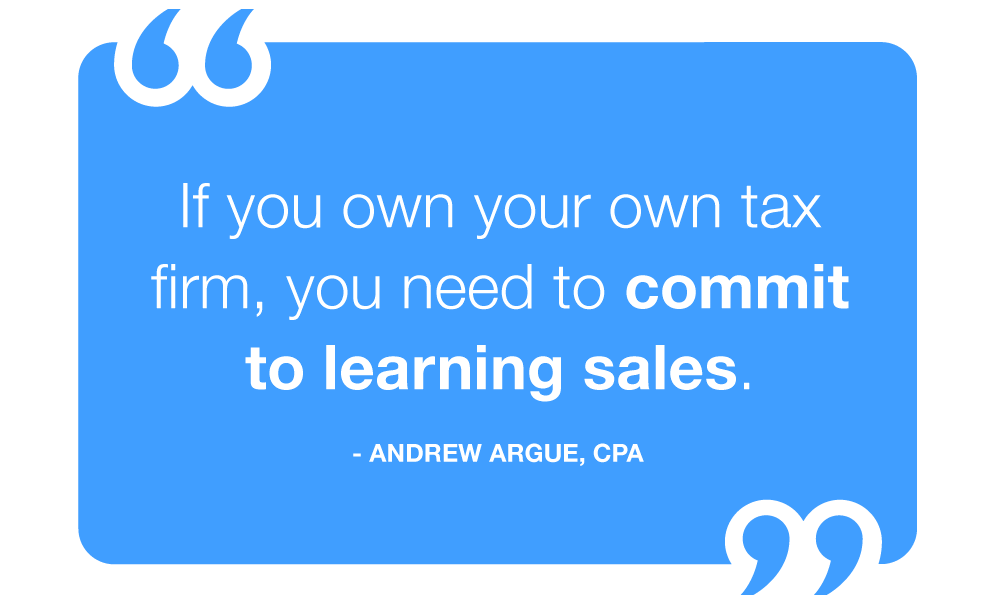 Get More Tax Clients by Diagnosing Clients in Your Sales Call
After you open the call, diagnose their situation by asking questions. Figure out what the problems are. This should take around 20 to 25 minutes. Whether it's bookkeeping, outsourced controller, outsourced CFO, or whether it's tax preparation, tax planning, tax resolution, whatever the services are—fundamentally it does not matter. From a diagnosis perspective you need to figure out how you can help them.
Ask questions like these:
How much did you guys do in sales last year?

What are you on track to do for total sales this year?

How long have you had the business?

How many employees do you have?

Tell me a little bit about what you guys are selling at this point.

What was your total gross profit last year?

What was your net profit?

How much are you paying yourself?

What are you setting aside for taxes?

What is your long-term plan with the business?

Are you going to give this to junior?

Will you sell this business?

Looking at opening other any more locations?

How much debt do you have on the business?

How much debt do you have personally?
The point is, tax planning professionals ask the right questions. Think of the diagnosis like a doctor. When you go to the doctor, he sits down and starts asking questions.
"How long have you had this issue?"
"What is the problem?"
When the doctor is looking at you, and he's getting concerned, you're thinking at that point…"Doc, what do I need to do to fix it? What do I need to do? I'll do anything." So, the more uncomfortable that you can make the prospect feel with their situation, the more likely they will take action!
How to Get More Tax Clients: Pitching Your Service and Offer in Your Sales Call
Once the client knows the problem, now it's time to pitch the solution. This part should only be 90 seconds with not a lot of detail. The pitch is about how you can help them. Short and sweet:
"If we were to work together today, I would send you over a request list and we would set up a kickoff call. We're going to go through and get the last six months cleaned up because you know we don't have anything set for next year, so we have to do that first. Once we get the last 6 months cleaned up from January 1st to July 31st, we'll start giving you the reports on a monthly basis and we're going to start to drill down on getting this right. I know you talked about wanting to see profitability by location and by customer. We can get that set up between going back and doing the last 6 months of accounting and getting the new profitability reporting set up alongside the monthly accounting. It's going to take us about 3 to 4 weeks, my estimate, if we decide to work together today."
It's a vague, simple pitch. Don't say, "Well, we've got to be doing Quickbooks satellite and right now you're on Quickbooks Desktop, so we're going to need to do a whole new ERP implementation." If you start talking too much about what you're doing, too much detail rather than the results, they're going to start to doubt you. Stick to the results you'll provide them.
At the end of your pitch, you need to be quiet and let them respond. Then they're going to ask you, "Well, how much does it cost?" Then you have to make an offer. Give them a price.
Get More Tax Clients by Handling Objections in Your Sales Call
Once you give the client a price, you have to handle objections. "Well, I got to talk to my business partner. Well, I got to talk to my spouse." While your offer is about one minute long, the objections are likely to be 20 to 25 minutes. You need to know which objections are coming so you can be prepared to smoothly answer them. As an example, a client says, "Why doesn't my accountant know about this?"
You: "Well look, I'm not saying that your accountant is incompetent or negligent. They just may not have had the proper training or be able to spend enough time to go through everything. They probably just prepare your return each year and never take a step back and say, 'How should we actually be doing this?'"
Here's another example of handling an objection:
Prospect: "What are the specific strategies you're going to use to get these savings?"
You: "Well, I'd love to give that to you today, but I mean… look… the tax code is 70,000+ pages. Yes, we've had this call today, and as I mentioned, I already know I estimate I can save you $XX,XXX this year and every year going forward. But in order for me to walk through everything step by step, I need to do a full analysis and present to you...
What deductions we need to add

What the most optimal legal entity structure is for you at this stage

What we need to consider for retirement

How we're handling insurance

Legal loopholes that apply specifically to you

Recent regulatory changes

Niche specific strategies

Advanced planning strategies
And it's going to take me a little bit of time. But as I said, I estimate we can save you $XX,XXX this year and every year going forward."
How to Get More Tax Clients: Closing the Deal on Your Sales Call
Knowing how to close the deal and collect money is the final touch that most tax planning professionals have yet to master. You may think you've answered all their objections, but if you don't collect the money on the call, there is something still holding them back.
If they say, "Yes, I'm interested." Then you can begin closing, "Great. Let's set up a kickoff call. How does Tuesday work? Okay, great. I'm going to send you a calendar invite for that and I'm going to send you a request list of what we're going to do to get started along with some other documentation and we'll go from there. And for the first payment, I know we're going to do $1500 a month. For the first payment we accept Visa, Mastercard, or Amex."
That is how you ask for the payment without being weird, without being salesy, and without being aggressive. Make sure you record:
Full Name

Card Number

Expiration Date

CSV

Full billing address

Amount to charge today
Principles of Getting More Tax Clients on Sales Calls
When you open the call right, accurately diagnose their situation, make your pitch along with an offer, and handle their objections, you should be able to close then and there. Remember to always quantify the dollar value of your services to them.
How much can they increase sales based on working with you?
How much can you increase gross profit margin?
How much can you increase net profit margin?
How much can you save them on taxes?
When you clearly communicate the value of your services, clients are much more eager and ready to commit to you!