Blog
Creating Winning Resumes For Accountants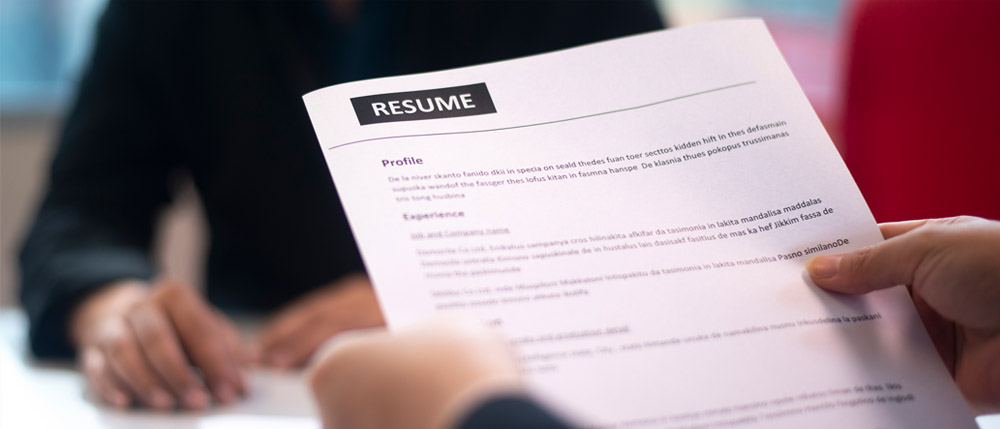 To get a job inside an accounting firm, you will need to create and submit your resume. If after working on creating a great resume for ten hours, you decide you just want to be done with it, then consider this: the resume is somewhere between 80% to 100% of the reason you receive an interview. Candidates are often accepted or rejected for interviewing based primarily on their resumes.
Once a candidate is accepted for an interview, the playing field is leveled (meaning GPA and other facts on your resume no longer differentiate you) and qualitative factors—such as the connections and relationships you have established—become much more heavily weighted.
Your resume is undoubtedly the major factor in determining whether you get an interview, and without an interview you will be unable to leverage all of the goodwill you have built up with the recruiting team into a job offer.
Resumes for Accountants: The Goal
Most candidates make the mistake of thinking a resume is a listing of their most important accomplishments. It is not! Your accountant resume is your sales pitch to the Big 4 firms (or whichever accounting firm you apply to). These firms do not necessarily care about your list of past achievements. At the end of the day, they are working to find the most qualified candidates that meet their specific needs for the positions they are trying to fill.
This does not mean that the recruiting teams from Big 4 accounting firms are cruel, cold-hearted people. Most of them are very nice and would actually probably be interested in hearing about any of your accomplishments if you were to sit down and have a conversation with them. We use this strong wording "they don't care about your past achievements" to help you get in the right frame of mind for writing your resume.
Especially if this is your first time, writing a resume is challenging. It takes a lot of thought and effort, and no part of it comes naturally because it's not something we do very often. The tendency is to start listing things to fill up the page. Then, once we've listed the key academic information, work experiences, and additional activities, we start adding bullet points to describe our role in each activity.
Write an Accounting Resume with Recruiter in Mind
To earn an interview with a Big 4 firm, you have to do more than that. Do not write your resume from your perspective, taking inventory of all your most recent activities in order to attempt to fill out a page. You need to write it with the recruiter in mind, the person you are trying to impress. To impress them, you need to think about what they are looking for in candidates. The recruiter is looking for a specific set of attributes in intelligent and accomplished candidates.
Imagine if you were a recruiter and you were given 50 resumes. Every candidate has a solid GPA, attends a good school, and has completed the requisite coursework. Then you are told you need to sift through the pile of 50 resumes, and pick 20 people who will be invited for interviews. Each resume has similar academic qualifications, so you have to look deeper into the details to try and differentiate between the best candidates and all the others. How do you know whether someone who lifeguarded for a summer is more or less qualified than someone who was a waiter?
If these two hypothetical candidates follow up their previous summer job with three bullet points that describe what the job consisted of, how will you know which candidate is more qualified? Does watching people swim on their summer vacation or delivering a juicy burger to a hungry family make you more qualified to excel at a Big 4 firm? Recruiters have no idea either!
Your resume will be of markedly higher quality if you are always thinking about what the recruiters are looking for while you write it. We know you can't change your past activities and experiences, and we're not asking you to. What you can do is consider every element of your resume through the lens of the recruiter, and do as much as you possibly can to portray those experiences and activities in a way that highlights how you possess the attributes they are seeking.
After every sentence you write on your resume, take a step back and ask yourself, does this directly address something the recruiter will be looking for? If the answer is no, go back to the drawing board. Think of a way to describe the experience or activity in a way that will show the recruiter you have done things in the past that suggest you have what it takes to excel at the job you are applying for.
Attributes the Big 4 Accounting Firms Are Seeking
Team Player

—Works well in team settings. Willing and able to work with people of all different backgrounds, personalities, work styles, and mannerisms to successfully complete any task at hand. You will always, 100% of the time, be working in a team at the Big 4. So it is absolutely essential for them to hire people that excel at working in teams. This means you are flexible, open minded, and are even able to collaborate with difficult people to get the job done.

Leader

—

The Big 4 want people who know how to lead

. Leading is not bossing people around. Leading is taking charge of a situation, and helping everyone around you excel in the process of successfully completing what you set out to do. You can lead even if you weren't the president of your organization or the captain of your team. Think of specific instances where you were the leader, where you stood up and people looked to you for guidance, and work them into your resume.

Taking on Responsibilities

— Especially above and beyond what is required, as this is a huge one that will differentiate you from other applicants. Did you merely have a job? Or did you go above and beyond in some way that wasn't required and maybe wasn't even rewarded? The Big 4 want doers, they want people who are out to accomplish things. Being there and getting by is not enough, they want people who seize opportunities to go above and beyond when they notice a chance to do so.

Ability to Deal with Difficult Situations

—You will undoubtedly face difficult situations should you earn a job with a Big 4 firm. These firms need people that can deal with adversity and address it with a logical, level-headed approach. Freaking out or blaming others will not solve problems. They want people who have faced difficult circumstances previously and who can show the way they respond in the most positive manner possible during trying times.

Innovative Thinking

—In many ways, this is linked with going above and beyond. People who do not settle for the status quo, who instead are constantly critically thinking and reevaluating the best approach to accomplish a given job or task, are the type of people Big 4 firms are looking for. It is not enough to somehow attempt to claim you have this attribute in your resume. You need to provide concrete examples from your past experiences that prove you have this quality.
As you are writing your resume, always keep these attributes in mind. You cannot change the facts of your prior experiences or current extracurricular involvements, but what you can do is highlight the aspects of your activities that strongly demonstrate these attributes within you.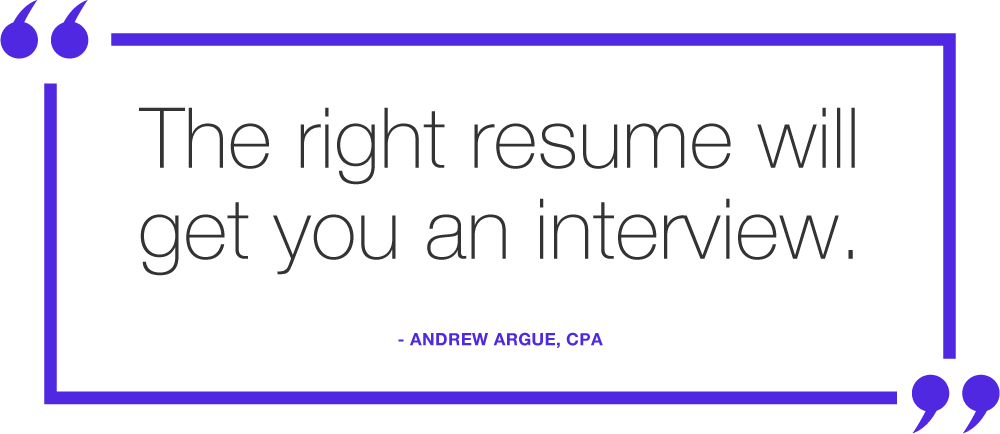 Resumes for Accountants: Key Elements
Resume Heading
The heading should include your name, phone number, email, and address. Your name should be prominently featured and easy to read. When the recruiter reads the rest of your resume and is impressed by how good it is, we want them to know your name! If your address at school or email could be changing in the near future, you may want to include your personal email or a permanent address as well.
Objective
Ask 10 different people and you'll get 10 different answers as to whether an objective is appropriate to include on your resume. In the past it was something that was required, but today not every resume has one. Our team has interviewed candidates that have both used an objective on their resumes as well as excluded it. We are in agreement that we would not pass initial judgment on a candidate one way or another based on whether they included an objective or not.
Our view is this: go big or go home. If you are going to include some boring or obvious objective, better to just leave it off. For example, "To obtain a position at (insert name of firm) as a staff member in the tax practice." is not a worthwhile objective. The person reviewing your resume knows nothing new about you and they are not more interested or excited to talk to you either. In fact, it is almost certainly the opposite, they are bored and they wonder why valuable space on your resume was wasted on information that is inherently obvious due to your application for the position. They might even assume you don't have enough quality experiences or accomplishments to fill up your resume, and that immediately hurts your candidacy.
If you are going to include an objective, make sure it is eye catching and helps your application. While an objective can be boring and obvious, it can also be powerful and send a strong message. Here is an example of a good objective:
Obtain an audit position with an internationally respected firm where I can leverage my team work, leadership, and problem solving abilities to team with colleagues to provide exceptional service to our clients while developing a market-leading skillset.
Now that is an objective that makes a statement! A statement like the one above is going to catch a recruiter's eye (and thus set you apart from the rest of the crowd) for a variety of reasons:
It shows you understand the power the name of the firm carries and that you want to be a part of it. You don't want to work for just any firm; you want to work for their firm. You know what it would mean to be a part of their team, and you are excited about it.

You demonstrate that you clearly understand the qualities this firm is looking for in its employees, and that you possess them and cannot wait to put them to use.

You know how talented your potential colleagues are and that you are not there to outshine them, but to work with them to create something greater than the sum of its parts. You will always be working in a team at the Big 4, and it is essential to show recruiters that not only are you willing and able to do work with a team, but you are going to thrive in those situations.

You see the direct benefits that working at a firm like this can offer you. Nobody wants to get a job so they can live a life of selflessness helping their clients and generating big profits for the firm. People want to be rewarded for their work. The last part of this statement acknowledges that, but shows that you are more interested in developing your skill set and your career (two things that are also very good for the firm), and not in the exact dollar amount of each paycheck.
If you can craft an objective such as the one above, you should do it. Catch the recruiter's eye within 30 seconds of picking up your resume by showing them you know what they're looking for in their next hire and that you have it.
School, Major, and GPA
This is very basic and obvious information for your resume. Many people mistakenly think this part is what gets you the job offer. It doesn't. The name of your school is probably the reason the firm is coming to campus to do interviews in the first place. Getting the recruiting team to your front door is all it can do for you. If you think the name of your school will win you a job offer over another well-qualified candidate, you are wrong.
Everyone that gets an interview has been deemed potentially worthy of receiving a job offer; you will need to rely upon other, more individualized aspects of your application, to earn an offer. You are better off thinking of school, major, and GPA information as the litmus test that gets you in the front door, nothing more.
If your GPA is below a certain level (3.0 in all cases and as high as 3.3 or 3.4 in some instances) you should be aware up front that it is going to be difficult to secure an interview. When a firm receives 50 resumes but only has time to interview 20 candidates on a given day, they need to make difficult decisions on who to interview.
An easy way to make these decisions is to give strong preference to candidates with higher GPAs or more prestigious backgrounds. This does not mean you should give up your pursuit of a position with a Big 4 firm if you don't have a 3.9. However, it is important to be realistic about your chances. Being realistic about your chances does not mean accepting defeat, or sitting around hoping for a miracle.
If you think your GPA might prevent you from getting an interview, you need to be proactive by finding ways to connect with recruiters and professionals at the firm in advance of your resume submission. Then, when it comes time to submit your resume, talk with them and address the situation openly. Explain to them that for some specific reasons (make them good reasons as well as fixable) your GPA is lower than what you are capable of, and that while you are in the process of raising it, you are concerned that it could affect your opportunity to interview. Ask them if there is a way for your circumstances to be considered when determining interview candidates.
Often, the lead recruiter or partner will have the final say in who receives interviews. If you have developed a good enough relationship with them, they might be able to grant you assurances that they will interview you and give you an opportunity to show all your wonderful qualities that aren't reflected in your current GPA. There are also options for formally addressing unique circumstances, such as attaching a cover letter to your resume. The recruiting team will let you know their preference and what is appropriate in this situation.
If you are on the other side of the fence and have a great GPA, or if you attend a prestigious school, it is important to keep in mind that these are the facts of your resume. The facts get you in the front door. The rest of the resume is your story. Your story is what distinguishes you from other candidates. It sets you apart from the rest and determines whether or not you get the job offer.
Your story is not simply what you would ramble on about if someone asked you who you were and what you have done. Your story needs to be crafted around the attributes we discussed earlier that are sought out by the Big 4 firms in their candidates. The candidates who best demonstrate they have these qualities receive the job offers, period.
Those that can't demonstrate these attributes and instead rely upon their GPA will be receiving their offers from somewhere different than a Big 4 firm.
Work Experience
You should include three or four previous jobs on your resume, and absolutely no less than two. Your jobs should be listed in reverse chronological order. We recommend including your three strongest jobs, which means the jobs where you best demonstrated the attributes Big 4 firms are looking for. If you take this approach, it needs to be done within reason. It is not acceptable to omit three jobs so you can include your 8th grade babysitting stint because you dealt with difficult situations or provided creative solutions.
Jobs you held that are most similar to the position you are seeking are most applicable. Due to the fact that most students have only held part-time or summer jobs, listing jobs in reverse chronological order often lends itself to including the appropriate experiences. This is because each new job a student works tends to be more complex and require more responsibility than the previous one. In any case, keep in mind that you will probably be asked to explain any employment gaps. This relates not only to potentially omitted jobs, but also long periods of time for which you didn't have a job.
Now, no one is expecting you to have worked at every opportunity given since age 14. If you took the summer after your freshman year to travel to a foreign country, or didn't have a job the summer of your junior year because you were an excellent athlete, and you were busy practicing and playing in competitions with your team, that is completely fine. Great experiences like those can be highlighted in the last part of your resume as well as your interview.
In summary, include your three most relevant jobs and in the two to four bullet points that follow each job, use concrete examples to demonstrate that you possess the attributes Big 4 firms are looking for.
Extracurricular Activities
The key here is much the same as your college application: quality, not quantity, is what counts. Firms would rather see people deeply passionate about one or two activities and making an impact in those areas, rather than someone who can list 10 organizations but makes no meaningful contribution to any of them.
As with work experience, it is not so important what you have done, but how you portray your attributes. Not everyone is the president of the debate club; there is nothing wrong with that. You need to dig down into whichever organization or activity you are actively involved in, and uncover the aspects that best demonstrate some of the attributes that Big 4 firms are looking for.
Volunteer and Service Activities
We recommend including at least one volunteer or service activity in your resume. If you have no involvement with any such organization, then this isn't an option, but it may be worth replacing the least impressive line of your resume with a volunteer or service activity that you contribute to.
The Big 4 are all actively involved in service and helping the community. They will be looking for the type of people that can join them in these efforts and help promote the strong reputation of their firms. If the only person you've ever helped is yourself, that doesn't exactly scream team player or leader. This doesn't necessarily mean you are not still a great person; it just doesn't look as good from a resume perspective.
Here are a couple examples of how your resume should not simply list your work experiences or extracurricular activities, but instead PROVE to recruiters that you have certain attributes they are looking for by using SPECIFIC examples:
Examples of Resumes for Accountants
You were not just head lifeguard, you managed a staff of 15 people and ensured that your team provided excellent customer service with first-class safety to a pool with more than 10,000 visitors each summer. You obtained this leadership position by volunteering for it when the head lifeguard from the previous year quit the job a week before the start of the summer season.
You were not just a waitress at a restaurant, you collaborated with your manager to improve the process for seating guests and decreased wait times at peak hours by an estimated 15%. In addition, you averaged 6 tables served per hour, 18% above average, by memorizing orders rather than writing them down. You also determined the exact number of minutes a table was seated before taking drink orders, food orders, and checking back in with the table. This was done in order to minimize the number of stops you had to make at each table while keeping everyone happy.
Notice how these examples do not simply list the job description, but instead provide specific quantifiable results so that someone who reviews the resume will have a much clearer idea of what each experience consisted of. Furthermore, each example uses specific instances of ACTIONS the candidate took. It is infinitely more effective to convince a recruiter that you have the attributes they are looking for by using past instances of things you have actually done, rather than sitting across from them in an interview and claiming you have those attributes.
A final requirement of the work experience and extracurricular activities portion of the resume is to use action verbs to describe these previous experiences. Instead of a boring word like "completed," use words that are more active and more clearly describe what you did, such as "collaborated," "improved" or "developed."
Formatting Resumes for Accountants
There are a variety of ways and styles to organize your resume, list your experiences/activities, and explain your responsibilities or highlight your key contributions. Do not simply take the categories we've listed here and force all the unique information about you into one of them and call it a resume. Every person is different; every person has done different things, had different experiences, and therefore will need to put their resume together slightly differently.
Work with your career center, knowledgeable professors and friends, or even a professional resume service to determine the best way to present your skills and experiences. You can organize your resume in whatever fashion makes the most sense, but keep in mind the key attributes we have provided and emphasize the things you have accomplished that best demonstrate those attributes.
Seek Outside Resources to Have the Best Accounting Resume Possible!
The best thing you can do after preparing your resume is to get outside help from expert sources. Nothing can take the place of an experienced individual reviewing your resume or providing advice. A great option, especially because it is free, is your career center. The staff there will have counseled thousands of students on resume writing and will be well tuned to the typical errors made by students. The career center should also be able to provide some form of resume review or editing service.
Another good option is a professional resume service. Find a reputable service, and have them review your resume while providing detailed and specific recommendations for improvement. If you don't have the funds or are opposed to a professional service, then have friends, family, professors, and anyone else in your network that can provide valuable insight to review your resume as well.
It will likely take no less than three serious revisions to turn your resume into something that is of the quality necessary to earn an interview with a Big 4 firm. Every person on our team has been in your shoes, spent 15 hours putting together a great resume, and made the mistake of thinking it was done. After several revisions, with feedback from OUTSIDE sources, our resumes were markedly improved and finally ready for submission.
Getting advice from an outside source is essential. After looking at your resume for so many hours, you will become unable to pick out the fine details, quite similar to any term papers you may have written. A fresh set of eyes will do wonders for your resume, so don't fool yourself into thinking you can perfect it on your own!