Blog
Tax Planning Software for Accountants: Get Paid On Time and in Full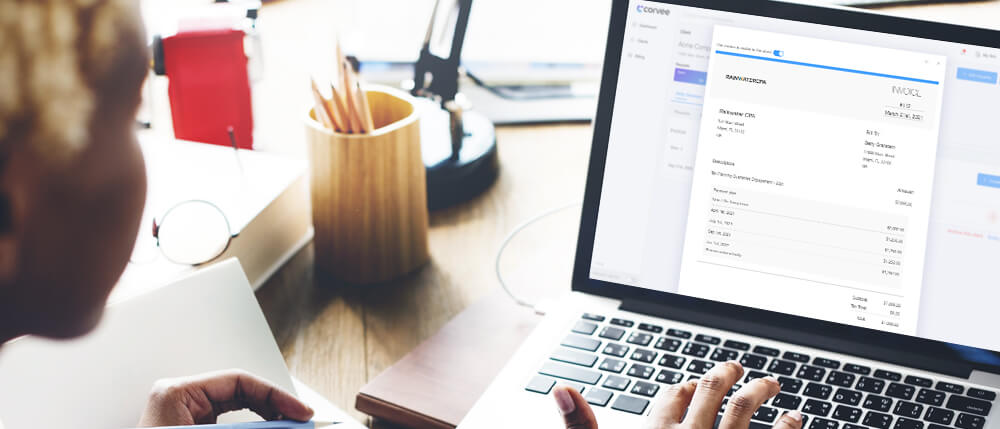 Let's face it, no one likes to pay bills. Your clients don't enjoy getting them and you don't enjoy having to send them out. That said, it is a necessity because your firm must get paid, right? This blog will cover the latest advancements in accounting firm billing technology and how you can begin implementing a better system for your clients to pay on time and in full by using tax planning software for accounting firms.
The Problem with Invoicing Accounting Clients
A common issue among accountants is either getting paid by clients late, or worse, not in full. This stems from a variety of reasons. Some accounting firms never charge upfront for services, and naturally some businesses take advantage of that, either intentionally because they don't want to pay the expense or unintentionally because they actually can't pay the invoice when it comes due.
Charging clients upfront before services are rendered is one way to help solve this problem. We know of too many accountants who have way too much AR—and having too much in AR is not a good thing. It means you're spending time and energy chasing invoices that you've already worked for.
A second issue with invoicing is simply the cumbersome process involved. Oftentimes accountants are using outdated or inefficient billing systems that take longer than necessary to create and send invoices. Then there's the issue of actually receiving payments. Are you getting physical checks in the mail and having to take trips down to your local bank? Are you accepting credit cards where you lose a percentage of each sale due to credit card fees? You don't actually have to do those things.
Finding the Right Payment Platform for Accountants
We know that not every person who comes through your sales funnel and converts into a paying client will pay upfront and in full. Even those who do want to pay in full at the beginning are not always going to be able to do so due to cash flow. Clients may require multiple forms of payment, their card may get declined, or they need a payment schedule that further complicates things.
Some clients may require a specialized payment plan, need an invoice sent over the phone and a variety of other issues. Thus, in many of these situations, you need billing support. Oftentimes accounting firms will hire a billing representative because they don't have the time to deal with all these issues themselves.
Finding a person to help is part of the solution, but what about simply finding the right tax planning software for accountants so that payments become as seamless as possible?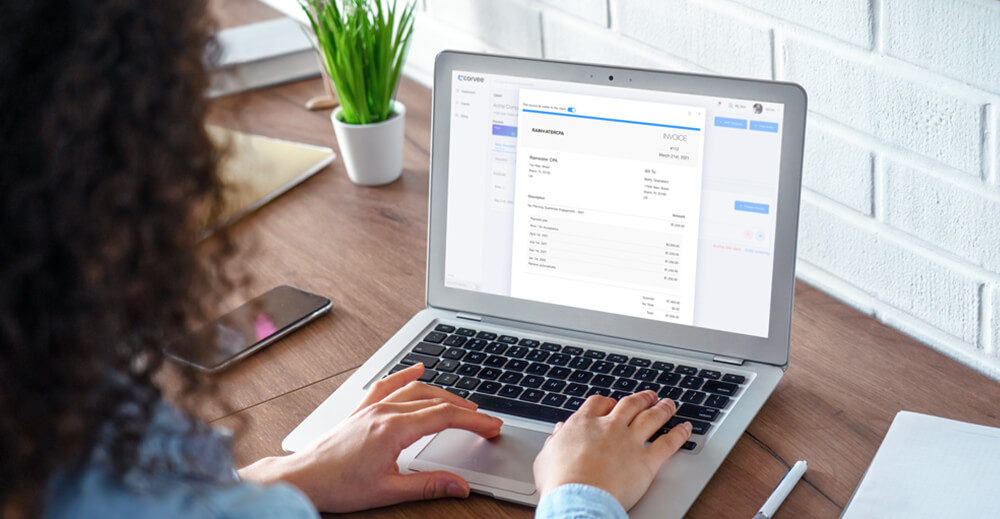 Corvee Tax Planning Software for Accountants Enables Multiple Ways to Get Paid
Corvee Tax Planning software for accountants remotely accepts credit and debit card payments, including ACH payments, directly in the client portal. This allows you to store all of your client's payment information in one spot so you have control over when to charge them.
With our accounting payments software, invoices are seamlessly created for all services and sent to the client via the portal for payment, making life easier for you and your staff. Plus, thousands of integrations are available to work with other applications you're already using. 
So, what does this all mean? Practically speaking, it means never waiting for an invoice again because Corvee Tax Planning software for accountants give you control over the processing of all credit card and ACH payments. The best part is, you'll be able to pass on processing fees to clients, so those pesky credit card fees don't eat into your net profit.
Being accountants ourselves, we know how important it is to collect payment information while you're on the phone with clients, set up recurring payments, automatically update credit card information when it expires and more. That's why we created this software with the goal of you maintaining control over how clients pay your firm.
You should have a billing and payments platform that allows you to be paid remotely, create invoices automatically, and add your custom branding so that you can invoice how you want, when you want. Corvee does all this plus supplies you with templated agreements, engagement letters, questionnaires and file requests for each type of engagement your firm sells.
Bookkeeping

Accounting

Controller

Chief Financial Officer

Tax Preparation

Quarterly Tax

Tax Planning

Tax Resolution
In fact, Corvee Tax Planning software for accountants allows your firm to manage and track all your requests to and from your clients in one central location, which gives you the ability to know exactly what's on your plate, and exactly what the client still owes you.
So, if you're tired of…
Sending an invoice and praying money comes back.

Struggling to find an easy way to accept credit/debit card and ACH payments.

Dealing with declined card payments.

Not having detailed templates for different services.

Being unable to invoice a client while still on a sales call.

Reinventing the wheel by having to come up with your own agreements, engagement letters and questionnaires.

Endless file requests back and forth with clients.
Then schedule a free demo today with Corvee below. Your admins will save time on repetitive billing processes; your staff can stop working on clients who have payments outstanding; you can check your firm's performance with easy-to-understand reports and dashboards; and your clients can have peace of mind using a secure payment platform within an attractive client portal. Take control of your accounting firm's payments and stop chasing invoices.