Blog
Marketing Tax Services 101: Providing and Receiving Accounting References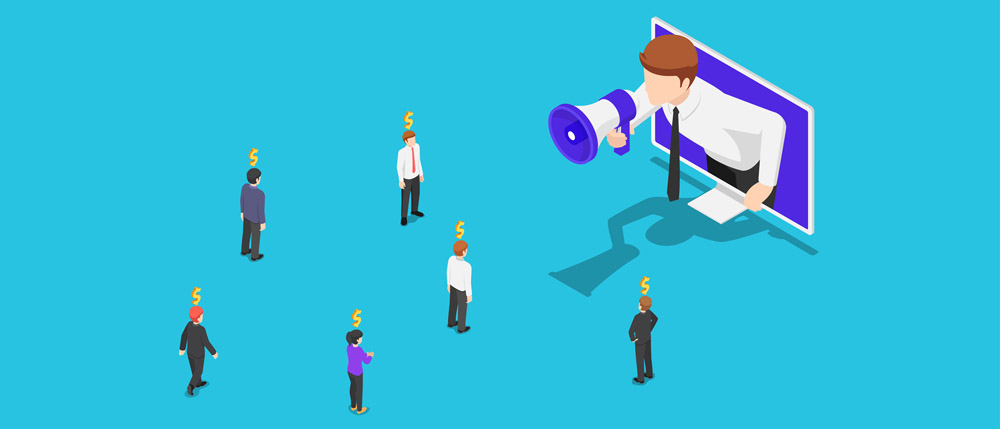 References are huge for accounting and tax firms. A reference is a relationship between people in which one person designates, or acts as a means by which to connect to or link to, another person. In short, references are all about people connecting. The fact is, you need to connect to more people for tax or accounting firm growth.
Without references, it's difficult to have any organic growth outside of marketing tax services yourself. It's great when clients give you a reference, as they can add to your client base. It's also good to have them when a prospective client wants to talk to someone who has worked with you.
Providing References to Your Accounting Clients
If you're doing sales calls with prospective accounting clients, you might be asked for references on occasion.
One tax firm owner has told us, "Everybody's asking us for references and we don't understand why this is happening." This is because when they go into a meeting, whatever they're focusing their attention on has a massive effect on the outcome of the deal. Let us explain the real reason your prospect is asking for a reference.
The Real Reason Clients Ask You For Accounting References
As an example, one tax firm owner was getting a bunch of requests for references. Whenever she would go into a call, she was thinking, "I don't want to get a request for a reference." So, what was she thinking about? References.
It's like if we tell you not to think about elephants, what are you thinking about? You're thinking about elephants. If you're going into a call with a potential client and you keep getting a certain objection, maybe they have to talk to their spouse or whatever the case may be, you have to try to focus on something else.
When you're going into a consultation, you have to focus on getting a full payment upfront and getting a $4,000/month client, getting a $7,500 tax plan, getting them to read their payment information to you and envision the tax client signing the engagement letter. You'd be surprised how well this works, simply focusing on what you want rather than on what you don't want.
Whenever you're on the call, if you're worried about something coming up, it will likely come up. If it's your tone, you'll sound more insecure. If you're worried about references, you're going to bring up something about your other clients and how good they are, which is then going to lead to them asking about those other clients and wanting to talk to them for a reference. You won't even consciously be aware of how you're triggering and eliciting that response.
Another tax firm owner who was interested in marketing tax services, was worried that her clients wouldn't want to work with her because they didn't live in the same area. Every call, people were like, "Where are you located?" She would say all these things on the call that would elicit that response.
You can't focus on the thing that you're worried about. If you're worried about something, you have to find something more positive to focus on. If someone's asking you for a reference, fundamentally based on the conversation that you had with them, they're not confident that you can deliver on the value.
The questions that you asked them did not show that you actually know what you're talking about. If your questions would have been deep enough, no one would've been able to ask those questions unless they actually knew what they were talking about.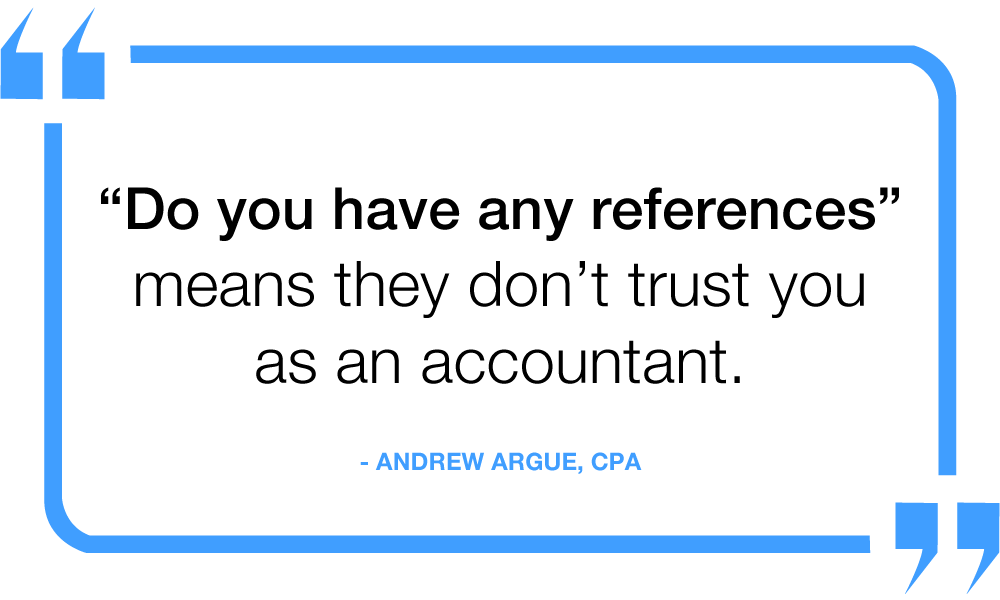 They don't believe that you can deliver, they don't believe that you can do it the way that you sounded. Let's say it's a construction company. If you would've asked them specific questions about their workers compensation package, and what the coverage is, and what company they're going with because you know about another option that would be good for them and their situation…then instantly they're going to realize you must've done this before. Who else would know about workers compensation insurance rates and coverage for a construction company?
When you ask detailed questions that are deep and specific to that person, industry, and business, there's no need for your prospective tax or accounting client to ask you for references.
How Accountants Can Handle the Reference Objection
Sometimes you will still get a reference request from a prospect—maybe they are in the habit of always asking for a reference whenever they buy anything. In that case, you want to treat it as an objection, because it's really what's holding back the sale. You can respond:
"Yeah, so if you do seriously want to consider working with me, typically what we do in this type of situation is two things. FIRST, we set a follow-up meeting on the calendar, just you and me to check in and make a final decision one way or the other. I'll also have you send me your Quickbooks file and prior year tax return to review. Then the SECOND thing is, we do a fully refundable $500 deposit. I'm not going to charge you to review your accounting file or your tax return. But, if I'm going to invest my time in this relationship, I just want to make sure we're both seriously considering this. This also allows me to provide you with the reference you requested.
My clients are happy and busy and I only ask they take up time on their calendar for serious candidates. If we come back tomorrow and once I present the investment to work with me, you say, 'You know, I thought it over and it's just not going to be the best time,' no worries. No questions asked, we'll refund you 100%, and we'll go our separate ways. But, if we do decide to go forward, then we would set up a kickoff call to get started."
When you get them to say yes, say, "Ok, do you have your calendar in front of you?" Then say, "And for the deposit, we do VISA, Mastercard, or AMEX."
The goal here is to not delay the sale because of a reference request, which takes days or even weeks to set up the parties, meet and reconvene. The aim is to push past the reference objection and still close the sale, and only offer them a reference once they are committed financially. Otherwise there's a high chance you waste your time and, more importantly, your reference's time.
Marketing Tax Services Involves Getting Accounting References From Your Accounting Clients
The first secret to getting references that you can pursue to make new clients, is to do a great job with your existing clients. If you make them happy, it's very likely they might talk about how great you are to their friends, colleagues or family. Word of mouth always spreads when something is spectacular.
The second secret is to simply ask. Call one of your clients and ask them if they know of anyone who could use your services! If they say they can't think of anyone, reply, "But if you were to think of someone, which person do you think that would be?" Saying it the second time in this way can surprisingly illicit some responses.
Referring Accounting Clients to Wealth Management
When considering marketing tax services, go beyond just "taxes" and start thinking wealth management. Many accounting firms refer back to a financial advisor. We know a firm owner that does around $800,000 in sales per year, and $70,000 of that is financial services. The key is, she doesn't do the fulfillment, she just refers it over. It costs her only $5,000 so it's $65,000 in net profit. These financial advisor referrals are 20% of her yearly profit!
When it comes to referring work over to another partner, you could choose to let them completely fulfill the work, or you could try and be involved in the fulfillment yourself for a higher commission rate. If you would like assistance in pairing up with a wealth management partner, we can assist you. Corvee partners with multiple parties to give you a wide array of options when it comes to referral partners.