Blog
3 Secrets to Accounting Firm Growth You Didn't Learn From Getting Your CPA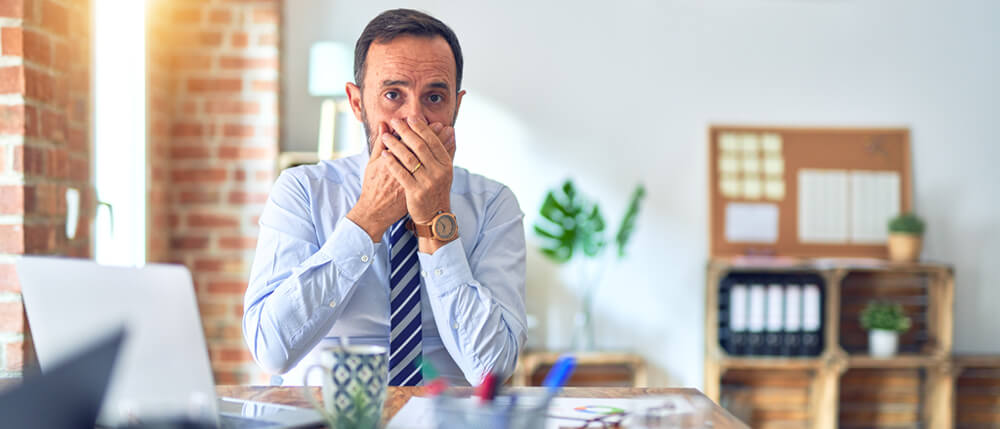 Did you know that even if you have a CPA, there are three accounting mindset secrets you likely don't know about? Here's a little known fact: The American Institute of Certified Public Accountants wants you to know about auditing, financial accounting and reporting, regulations and so forth—but they are not in the business of teaching accountants how to create value for clients. That's up for each individual accounting firm to figure out in the real-world.
Much like with school, where some of the most important lessons you learn in life are not taught, so it is in the world of accounting. Your degree and all your professional training failed to give you one extremely important piece for massive success: How to create value for clients.
Question: Do you give enough value to your accounting clients? This is NOT just about providing some report they need to have. This is why some people think accountants don't help people make money. If you're an accountant, you better be helping people make money with tax planning and CFO services, among others. This article will take a closer look at how accounting firm growth often begins with giving more value to your clients with three little known accounting mindset secrets.
Accounting Mindset Secret #1: Value Isn't Tied to Fees or Time
Successful accountants know that when you're focusing on what value you are providing for your accounting client, it is not necessarily tied to the fees you are charging, nor the time you're going to invest. It is absolutely possible that an accounting service can take you a lot of time and provide little to no value to the client!
Some examples of this might be handling accounts payable and bill payment, where a manual process might be in place, or the client may want you to move them into an automated process. Therefore, conducting a full IT implementation to make that transition can take a substantial amount of time, while providing little value to the client.
Similarly, it is absolutely possible to provide a service that is high value to the client, but demands a relatively low time input. When you think about CFO engagements, one of the most valuable things you can give your client is the knowledge, advice and analysis that you provide at the end of every month, quarter and year.
Of course, it is critical that the financials are accurate. Likewise, it is essential that the client actually understands the financials and they know how to read them. However, the most important thing you can ever provide your client is a list of actions they need to take to achieve a transformation.
Accounting Mindset Secret #2: The Most Value Lies Not In Doing Things, But In Knowing What To Do.
Here are some questions to ask yourself when evaluating your client's financial situation:
How do they increase their estimates to get better fees?




How do they re-negotiate pricing with existing clients to get more out of the deal?




How can they move people from contractor to W-2 without losing money on payroll tax and other benefits?




How can they move people from contractor to W-2 without losing money on payroll tax and other benefits?




How do they restructure their sales incentives to be able to make better margins and encourage their salespeople to sell products that don't just have a high price but have a high profit margin?
In a matter of minutes, all of these questions can be explored simply from seeing the financials. That is really where some of the most valuable advice comes from—not in reconciling every transaction, processing bills, or invoicing clients, but rather in providing the analysis and knowing what to do to take action!
There are services all across the spectrum that you will choose to offer by providing CFO services, and it is important to be intentional about your choice. You may want to provide some substantive accounting because you want the relationship to have a strong foundation, and you don't want to be judged or evaluated simply based on your advice.
You are actually doing technical work as well, which is expected. However, you want to make sure that you are constantly trying to move into services that provide more value to the client, but require less economic input from you.
Definition: Economic input is the time and money that it costs you to get the value for the client.
You always want to consider how much time and money it takes you personally, as the firm owner, to get results for your client. This includes the time it takes to acquire the information, get the reporting from the client, or give advice to the client: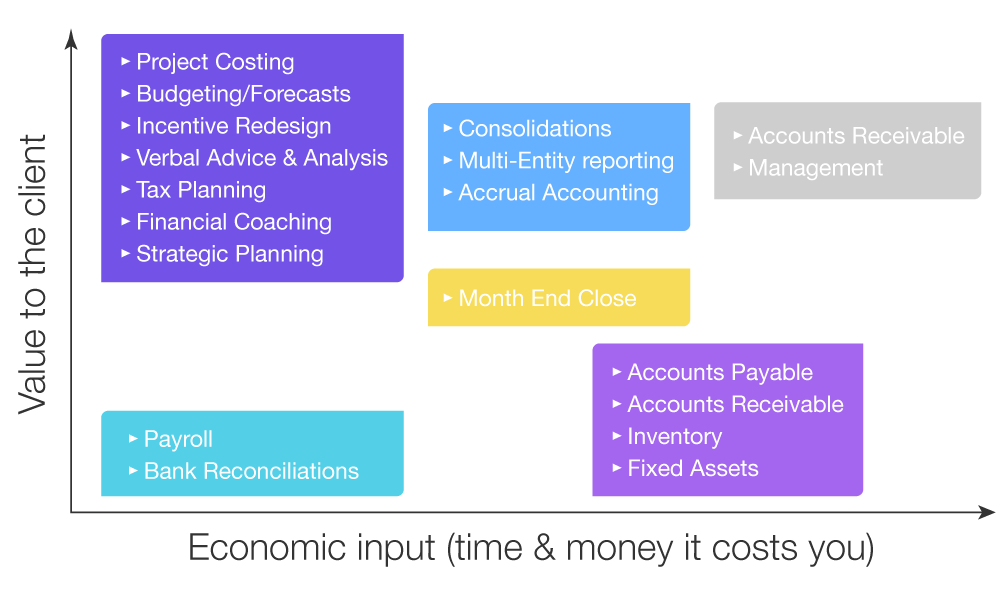 Accounting Mindset Secret #3: How to Know Where to Find Value
Accounting firm growth starts with finding value for clients. During the value extraction process, you will identify the problems the client has, then figure out what you need to do in order to get them to their desired state. This is the distance between the current state/problem (A) and the desired state/solution (C), with (B) being the services and the value that it takes for that distance to close: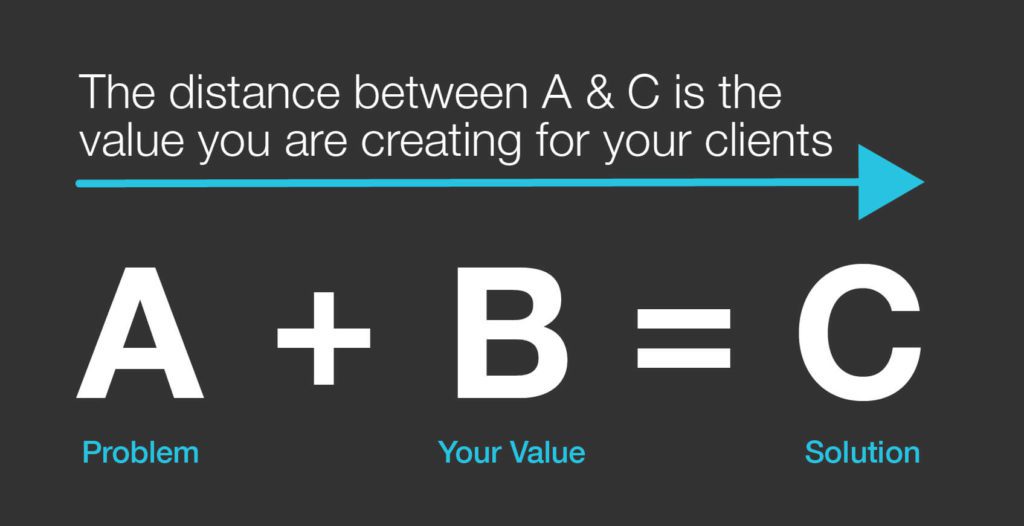 Let's look at how to reduce the amount of work that you have to do to get the client from A to C.
Rules For Accountants to Create Value
Whether results take 2 hours or 25 hours, all that matters is that you bring value. And when it comes to pricing…here's the rule: No matter what service you are offering, you need to know the specific monetary value and make your pricing ⅓ of that value.
In other words, you want to charge them something that is going to give them a 3 to 1 return on their investment. And there are some key pricing principles to remember:
It does not matter how long it takes you.

You should price based on the value that is created from your services, not how much time it takes to do the work. If you charge $5,000 an hour, that's fine, so long as the client receives a 3 to 1 return on their investment. If they are comfortable paying your fees, then they believe the value is worth the price. The ROI is all that matters.

Qualification is everything.

There will be times when you will not know the exact price to charge. In these circumstances, you want to let the prospect know that if you go over your original pricing, you will charge them hourly. Once you have exhausted 50% of the fixed fee amount, you should tell the client that you have gone through half of the fees and there is still "X" percent of work to be done. If they want you to continue, there will be an hourly fee.

Fixed is better than hourly, but we still use hourly.

Many people in the accounting industry only use fixed pricing; however, it is much better to price on the outcome rather than time. When you price on the outcome, you can increase your margins substantially. The goal is to always be moving toward more efficiency without doing more work. When the value is there and it does not take you a substantial amount of time to complete the work, that is the ideal situation. Generally, you only want to use hourly if you go over your fixed budget or you have absolutely no idea how to price a project. Even then, it's best to perform a diagnostic engagement for a fixed fee and then move to an hourly charge.

Know your pricing before the strategy session begins.

The only exception to this is pricing for training or software sales. For services, you should never know the fees until you have completed your diagnosis and value extraction process. Only then can you find the value. Once you determine the value in the strategy session, you can then determine the investment to work with you.
Never put pricing on your website.

Even if you have a fixed fee for a training program, you want people to talk to you or email you directly for pricing. There should never be prices on your website because this creates allure and intrigue. It also allows you to be flexible and change your pricing over time.

Successful accountants rarely put pricing on their website.

Pricing is always wrong, so aim high.

Do not worry about getting your prices right. Be conservative with your business and make your prices and your value high. This value should be made clear in your strategy sessions and potential clients will buy if they see that value.

Hourly rates should never be less than $125.

While you want to aim for $250 or more an hour, the absolute minimum should be $125. No matter your experience level, this is the minimum. In theory, charging $125 an hour will give you $250,000 a year. However, that would require you to work full time and therefore deplete your time for marketing, sales and other activities that grow your business. Aiming for $250 or higher grants you more flexibility and money to invest in your accounting firm growth.

Always refer to your prices as "an investment."

Accounting services are an investment the moment someone decides to work with you. Avoid words like "fees," "price" and "cost." During strategy sessions, always emphasize that your work is an investment.

You want to do the least amount of work possible.

When you

learn how to price on value

, you'll then determine how to do the least amount of work to create that value. The more efficient you become by reducing service delivery time, creating supplemental training and using software, the more profit you will inevitably make.
These are the key principles that you should remember for pricing any services you decide to perform. Using these accounting mindset secrets will also help you become a successful accountant, maximize value for your clients and lead to accounting firm growth!